Alerts
Kidzone, at Capital Racquet & Fitness Center, will be closed on Wednesday, Nov. 22
The Pebble Creek Recreational Trail is closed from 19th St. to the Century Ave. bridge.
Wachter Park will be closed until Fall of 2017.
Due to the construction of the new rink at Schaumberg, the current Wachter Park is closed and will be replaced to make way for the new building and parking lot. Don't worry a brand NEW Wachter park will be coming in …
Read More
A New Sign Sails On
The Sons of Norway received a Matching Grant from Bismarck Parks and Recreation District to purchase a new sign for the Sons of Norway Park. The new sign was recently unveiled. It's a beauty! Thanks for the partnership, Sons of Norway.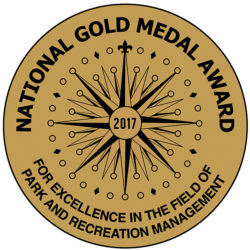 Winner, 2017 National Gold Medal Award for Excellence in the Field of Parks and Recreation