Alerts
Moses 4th & 5th Grade Basketball Practices Cancelled Tonight Thursday, December 14.
Due to music program.  Moses Practices are rescheduled for Friday, December 15: 5th grade at 4-5pm and 4th grade at 5-6pm.
Indoor public skating Saturday, Dec. 16 at the Capital Ice Complex has been cancelled.
Due to a hockey tournament.
The Pebble Creek Recreational Trail is closed from 19th St. to the Century Ave. bridge.
Wachter Park will be closed until Fall of 2017.
Due to the construction of the new rink at Schaumberg, the current Wachter Park is closed and will be replaced to make way for the new building and parking lot. Don't worry a brand NEW Wachter park will be coming in …
Read More
Contact Us
The Bismarck Parks and Recreation District is committed to making all of our programs, facilities, services, and activities accessible to everyone. If you feel that you or your child may require auxiliary aid or special accommodations to participate, please let us know at the time of registration. We will work with you in order to make reasonable accommodations. If you have questions or accessibility concerns or suggestions for improvement, please contact us.
We're located at
400 East Front Avenue
Bismarck, North Dakota 58504
Telephone: (701) 222-6455
Fax: (701) 221-6838
Website: www.bisparks.org
E-mail: bisparks@bisparks.org
(Please do not e-mail shelter reservations)
Hours: Monday – Friday 7:30 a.m. – 5 p.m.
Gift Certificates
Consider a Bismarck Parks and Recreation District gift certificate for recreation programs, programs, equipment use, shelter reservations and facility use. They can be purchased at the Parks District Office, Capital Racquet & Fitness Center and golf courses.
Photography/Video
The Bismarck Parks and Recreation District takes photographs/video footage of people enjoying our programs, events, parks and facilities. These photographs/video footage are used for Park District publications and informational videos. The photographs/video footage are used at the discretion of the Park District and become the sole property of the Bismarck Parks and Recreation District.
Bismarck Parks and Recreation District Staff
Do you have a question or comment for a staff person?
Email us at bisparks@bisparks.org
Administration
Randy Bina, Executive Director
Directors
Kevin Klipfel, Facilities and Programs Director
David Mayer, Operations Director
Kathy Feist, Finance Director
Administration Division
Paula Redmann, Community Relations Manager
Rena Mehlhoff, Communications Specialist
Holly Wardzinski, Accountant
Tina Walker, Account Technician
Megan Pederson, Accounting Specialist
Julie Fornshell, Human Resources & Administration Coordinator
Tana Oswald, Receptionist/Customer Service Representative
Landa Boyd, Receptionist/Customer
Service Representative
Facilities and Programs Division
Tim Kuntz, Recreation Manager
RaNae Jochim, Recreation Manager
Ryan Geerdes, Facilities Manager
Tim Doppler, Golf Operations Manager
Mike Wald, Facilities Manager
Cindy Gums, Recreation Specialist
Jeremy Dykstra, Recreation Specialist
Ethan Eberle, Recreation Specialist
Kevin Olson, Facility Specialist
Katrina Hanenberg, Facility Specialist
Linsay Berg, Fitness/Wellness Specialist
Jahna Gardiner, Aquatic Specialist
Rod Morasch, Head Tennis Professional
Dave Seefried, Facility Specialist
Dylan Thiem, Facility Specialist
Cole Carroll, Facility Supervisor
Dan Sedevie, Operations Superintendent
Mike Page, Golf Course Superintendent
Brad Schulz, Golf Course Superintendent
Mac Weigel, Golf Course Superintendent
Brandon Wilkens, Facility Specialist
Maintenance and Operations Staff
Rick Schuler, Bev LaBelle, Tim Thiel, Kent Tardif, Brandon Ripplinger, David Page, Nathan Schneider, Michael Schaff
Operations Division
Riley Merkel, Sports Complexes Manager
Rod Knutson, Operations Superintendent
Tony Schmitt, Park Operations Manager
Steve Gerding, Facility Specialist
Colin Bales, Facility Specialist
David Robinson, McDowell Dam Recreation Area
Martha Willand, Facility Specialist
(General Sibley Park)
Lynn Morgenson, Landscape Specialist
Cory Lang, Equipment Maintenance Specialist
Maintenance and Operations Staff
Ryan Miller, Rich Hetzler, Garth Heupel, Tim Nelson, Steve Pulkrabek, Adam Keller, Cullen Theisen, Quentin Schmidt, Pat Miller, Ryan Savenko, Brad Volk, Joey LaFave and Mike Roth
Full-Time Seasonal
Wendy Anderson-Berg, Park Planner
Bonnie Lahr, Office Coordinator
Cliff Oswald, General Sibley
Brandon Rittenbach, Riverwood
Adam Bitterman, Tom O'Leary
Greg Horne, Pebble Creek
Burnell Berg, McDowell Dam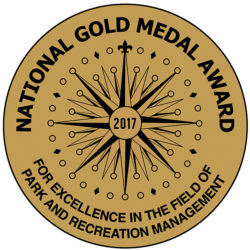 Winner, 2017 National Gold Medal Award for Excellence in the Field of Parks and Recreation