Alerts
Wachter Park will be closed until Fall of 2017.
Due to the construction of the new rink at Schaumberg, the current Wachter Park is closed and will be replaced to make way for the new building and parking lot. Don't worry a brand NEW Wachter park will be coming in …
Read More
The Pebble Creek Recreation Trail from N. 19th St. to E. Century Ave. is temporarily closed for maintenance until further notice.
General Sibley Park & Eagles Park – Camping
General Sibley Campground is currently closed for the season. The campground will open in May of 2017. The day-park is available year-round during daylight hours. Parking is permitted outside of the park gates.
5001 South Washington St.
General Sibley Park is located on South Washington Street four miles south of the Bismarck Expressway.
The park includes camping sites for tents and campers with electrical hook-ups. There are also full service restrooms, picnic shelters, playgrounds, 24-hole disc golf course, water and dump stations and a boat ramp.
Reservations
Reservations can be made online, in-person, or by phone.
Office Hours
Ph: 222-1844
Thru Memorial Day, Mon-Sun: 10am-8pm
Memorial Day – Labor Day, Mon-Sun: 10am-9pm
For general campground information, email Martha Willand at mwilland@bisparks.org. Campground reservations not accepted through this email address.
Day Use Area Hours
Day Use Area gates are locked at sunset and opened at 8:00 a.m. each day.
24-Hole Disc Golf Course
Boat Ramp (For small boats less than 15' and for canoes and kayaks)
Sand Volleyball Court
Horseshoes
Playgrounds
Picnic Shelters
General Sibley Fees
Tent Camping: $12/day
Camper Sites with electricity: $22/day
Firewood: $5/bundle
Ice: $3/bag
Camp Sites
Electricity:
30-amp only: Sites 1-15 and sites 58-69
20-30-50 amp: All other camp sites
Drive Through Sites:
Double Sites:
Reserved as double (two units)
Sites: 74A-B, 75A-B, 108A-B, 109A-B
Small Site for pop-up or small units only:
Asphalt Pads:
Sites 16 – 57 with the exception of sites 28, 38 and 45
All other camp sites have gravel pads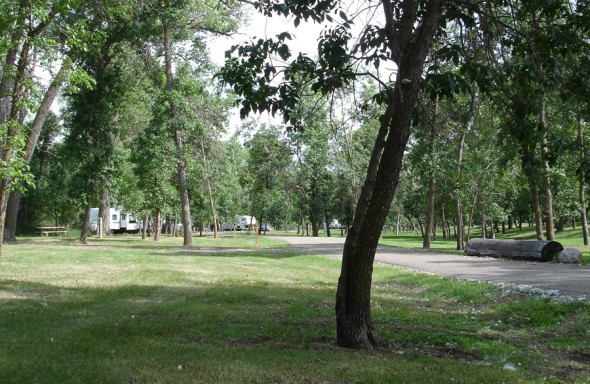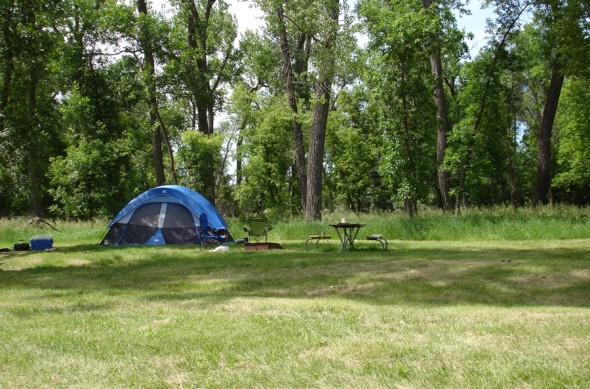 Camping Reservations
General Campsite Policies:
All campsite fees must be paid at time of reservation.
Transferring a reservation from one customer to another customer is prohibited.
Camping is permitted in designated areas only.
All camping sites are restricted to one camping unit per campsite.
A camping unit is a vehicle, motor home, camper or any other device used for sleeping.
Campers are responsible for their reserved campsites.
Check-in and Check-out time for the campground is 2:00 pm Central Time.
There is a separate area designated for tents.
Tent Area campsites are not individually designated.
Tent Area campsites are not available for reservation.
Reserved campsites will be held until the customer arrives or the General Sibley Park Office has been notified of a cancellation
The maximum stay of any one camper, camping group, or camping unit shall not exceed 14 camping nights in any consecutive 30-day period at any one of our campgrounds. Once the 14-night maximum has been reached, all customers must wait at least 16 days before returning to our facilities.
Arrival:
Prior to occupying a campsite, all campers are required to register at the General Sibley Park Office.
Campers arriving outside of General Sibley Park Office hours:

Campers with reservations should proceed to the site they have reserved and register at the Sibley Park Office during office hours.
Campers without reservations must report to the Sibley Park Office during office hours to register and pay applicable fees.
Refunds and Cancellation Fees:
Reservations are nontransferable.
A cancellation fee of $5.00 per night per campsite reserved will be assessed when a reservation is cancelled in it's entirety.
Cancellation requests must be made a minimum of 2 days (48 hours) prior to the camper's arrival date and time (2:00 pm) in order to be considered for a refund of campsite fee(s) minus cancellations fee(s).
Cancellations after this time will not be eligible for refund of first night's campsite fee.
All refund requests must be made to the General Sibley Park Manager or his or her designee.
Please contact the General Sibley Park Office to initiate a refund request.
Early Departure:
Park staff may accommodate an early departure by processing a refund for any remaining nights (minus cancellation fee), including the night of the request, if the departure is made prior to checkout time (2:00 pm Central Time)
If the request is after checkout time, the customer will be charged for that night.
Requests must be directed to the General Sibley Park Office during office hours.
Eagles Park
10900 NW Highway 1804
Primitive camping is available at Eagles Park, located 9 miles north of Pioneer Park on Highway 1804, just south of historic Double Ditch Indian Village site.
All 25 camp sites are reservable for 3 days, at $350 or 6 days at $450. Payment is required at the time of reservation.
Individual site reservations will be accepted beginning April 1. The fee is $8.00 per night per site. For reservations, call 222-6455.