Alerts
Moses 4th & 5th Grade Basketball Practices Cancelled Tonight Thursday, December 14.
Due to music program.  Moses Practices are rescheduled for Friday, December 15: 5th grade at 4-5pm and 4th grade at 5-6pm.
Indoor public skating Saturday, Dec. 16 at the Capital Ice Complex has been cancelled.
Due to a hockey tournament.
The Pebble Creek Recreational Trail is closed from 19th St. to the Century Ave. bridge.
Wachter Park will be closed until Fall of 2017.
Due to the construction of the new rink at Schaumberg, the current Wachter Park is closed and will be replaced to make way for the new building and parking lot. Don't worry a brand NEW Wachter park will be coming in …
Read More
Park & Shelter Information
Park System
The Bismarck Parks and Recreation District owns, manages and maintains approximately 3,332 acres of public park land. Our parks are open year-round; however, some facilities are operated on a seasonal basis.
Park Hours
Park hours vary depending upon location. Please check for posted signage regarding hours. Restrooms are scheduled to open May 1 and close November 1. This may change due to the weather.
Park Rules
For your safety and enjoyment, we ask you to abide by the following rules and regulations in our parks/recreation facilities:
Glass beverage containers are prohibited, and alcohol permits are required.
Fireworks are prohibited at all times.
Vehicles are restricted to established roads and parking lots.
Horses are prohibited except at the Horse Arena.
Fires are restricted to fire pits and grills.
Posting of posters and advertisements is prohibited.
Vendor permits are required.
Discharge of weapons is prohibited.
Pets must be on a leash, and please clean up after your pets.
Hunting, trapping or killing of animals or birds is prohibited.
No overnight camping is allowed in any city parks, with the exception of General Sibley Park and Eagles Park.
Insurance
The Bismarck Parks and Recreation District does not carry medical or accident insurance for the participants of the programs. The cost of doing so would be so high that fees charged for programs would become prohibitive. We suggest you review your family's personal health insurance plan to ensure it provides you with sufficient coverage. We also suggest you check with your family physician before participating in any Bismarck Parks and Recreation District programs which require physical exertion. If your physician should discover some factors that could limit you physically, please consider them when registering for programs.
Shelters
For shelter amenities and photos, click here to view our Shelter Descriptions page.
Outdoor Shelters
The park district has many parks with picnic shelters. Some parks have smaller shade structures. A majority of shelters can be reserved. Amenities at each shelter can vary. Please call 701-222-6455 to verify the following: electricity, picnic tables, grills, volleyball courts, horseshoe pits and nearby restroom facilities. Picnic shelters/buildings may be reserved for 2017, 2018, and 2019.
Indoor Shelters
The Hillside Aquatic Complex – Community Room, Jaycee Leadership Hall, Lions Park Community Room and Sertoma Club Community Center are multi-use, indoor buildings that are open year-round and heated in the winter. The Jaycee Leadership Hall does not have air-conditioning.
Reservations must be paid at the time of reservation. Picnic shelter rain checks will be granted only if the scheduled picnic or social gathering doesn't begin due to the weather. Rain checks may be received by stopping at the Bismarck Parks and Recreation District Office within 72 hours of the scheduled picnic.
Picnic Equipment Available
Volleyballs and nets
Bats and balls
Horseshoes
Frisbees
All equipment is available on a first come, first served basis at the World War Memorial Building, 215 North 6th St., for a $50 deposit plus a $15 use fee. Equipment is for citizens who rent shelters from Bismarck Parks and Recreation District only. Deposit will be returned if equipment is returned cleaned within three days. Please Call 701-222-6454 for additional details.
Alcoholic Beverage Permits
Anyone wishing to have alcoholic beverages in parks and recreation areas must obtain a beverage permit at the Bismarck Parks and Recreation District Office, 400 East Front Avenue. You must be 21 years of age to purchase a permit.
Group Permit – $20: Valid for one use only and is necessary anytime 11 or more adults are present in one group.
Individual Permit – $10: Good for one person per calendar year. Valid from date of purchase through December 31 of the year of purchase. Valid for purchaser only.
Team Permit – $25: Valid from date of purchase through the ending date of the program/season.
General Sibley & Eagles Park
Please click here for more information on General Sibley Park & Camground
Please click here for more information on Eagles Park & Camground
McDowell Dam Recreation Area
Please click here for more information on McDowell Dam Recreation Area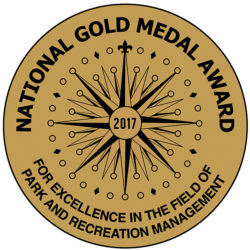 Winner, 2017 National Gold Medal Award for Excellence in the Field of Parks and Recreation