Alerts
Moses 4th & 5th Grade Basketball Practices Cancelled Tonight Thursday, December 14.
Due to music program.  Moses Practices are rescheduled for Friday, December 15: 5th grade at 4-5pm and 4th grade at 5-6pm.
Indoor public skating Saturday, Dec. 16 at the Capital Ice Complex has been cancelled.
Due to a hockey tournament.
The Pebble Creek Recreational Trail is closed from 19th St. to the Century Ave. bridge.
Wachter Park will be closed until Fall of 2017.
Due to the construction of the new rink at Schaumberg, the current Wachter Park is closed and will be replaced to make way for the new building and parking lot. Don't worry a brand NEW Wachter park will be coming in …
Read More
BPRD Geocache Challenge
Bismarck Parks and Recreation District (BPRD) has partnered with the North Dakota Geocaching Association (NDGA) to establish 12 geocaching sites in BPRD's system of parks and trails.
What is geocaching?
It's a free outdoor recreational activity. Participants search and find hidden objects by using Global Positioning System (GPS) coordinates that are posted that are posted on geocaching.com.
The passport, below,  will help you keep track of all the caches that you find. You can print the passport or get a passport inside a geocache. The passports and the caches are in BPRD parks to stay. Cache searchers can take their time and enjoy the hunt, the find and BPRD's parks. Find all of them (in a week, in two months, six months, whenever) in Bismarck's park and trail system.
Bring the completed passport to the BPRD Administrative office at 400 E. Front Ave. (open M-F, 7:30am-5pm) to receive a prize.
Click the image to view a printable PDF of the passport.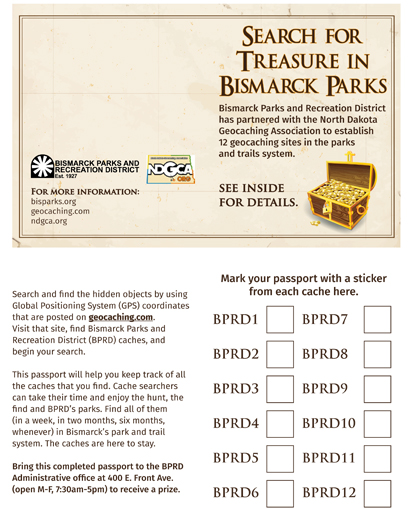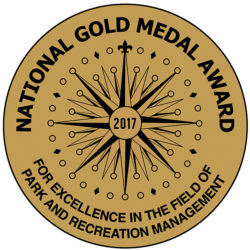 Winner, 2017 National Gold Medal Award for Excellence in the Field of Parks and Recreation