Alerts
Moses 4th & 5th Grade Basketball Practices Cancelled Tonight Thursday, December 14.
Due to music program.  Moses Practices are rescheduled for Friday, December 15: 5th grade at 4-5pm and 4th grade at 5-6pm.
Indoor public skating Saturday, Dec. 16 at the Capital Ice Complex has been cancelled.
Due to a hockey tournament.
The Pebble Creek Recreational Trail is closed from 19th St. to the Century Ave. bridge.
Wachter Park will be closed until Fall of 2017.
Due to the construction of the new rink at Schaumberg, the current Wachter Park is closed and will be replaced to make way for the new building and parking lot. Don't worry a brand NEW Wachter park will be coming in …
Read More
Conservation
Bismarck Parks and Recreation District (BPRD) provides and protects wooded buffer zones in ecologically sensitive areas, supports community gardens and orchards, tree-planting activities (over 2,677 planted in three years) and an arboretum.  BPRD has embraced integrated pest management, is engaged in prairie restoration, xeriscape design, invasive species removal and planting native grasses, flowers and trees. Downed trees are repurposed for wood mulch.
BPRD practices efficient water use, utilizing untreated water and minimizing gallons used through computer-aided, zone-specific irrigation systems. In 2014, the city's tall grass and weeds ordinance was modified to allow for grass over eight inches in undevelopable areas. This allows BPRD to maintain undeveloped park land in a more natural state and use less fuel, staff and equipment hours for maintenance.
Recycling containers
Recycling containers are side by side with trash containers in several Bismarck parks. Containers are clearly marked, so you'll know what to toss, and what to recycle. Help us keep Bismarck's parks clean and green.
Bismarck Parks and Recreation District 
Recycling Container Placement
Capital Racquet & Fitness Center
1
Cottonwood Park Shop
1
Cottonwood Soccer
2
Custer Park
1
Eagles Park
2
Johnny Gisi Memorial Park Pickleball/Youth Tennis Courts
1
Jaycee Leadership Hall
2
Municipal Ballpark
2
Nishu Bowman Indoor Archery Complex
1
Outside of the pools (Hillside, Wachter, Elks & the Aquatic Center)
4
Park Operations Shop
1
Pioneer Park
3
Pro-Shops, (Tom O' Leary, Riverwood & Pebble Creek)
3
Scheels Complex
2
Sertoma Club Community Center
2
Sertoma Park
3
Sertoma Soccer
1
Sertoma Tennis Courts
1
Sons of Norway Tennis Courts
1
Tom O'Leary Tennis Courts
1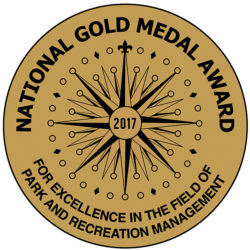 Winner, 2017 National Gold Medal Award for Excellence in the Field of Parks and Recreation