Alerts
Moses 4th & 5th Grade Basketball Practices Cancelled Tonight Thursday, December 14.
Due to music program.  Moses Practices are rescheduled for Friday, December 15: 5th grade at 4-5pm and 4th grade at 5-6pm.
Indoor public skating Saturday, Dec. 16 at the Capital Ice Complex has been cancelled.
Due to a hockey tournament.
The Pebble Creek Recreational Trail is closed from 19th St. to the Century Ave. bridge.
Wachter Park will be closed until Fall of 2017.
Due to the construction of the new rink at Schaumberg, the current Wachter Park is closed and will be replaced to make way for the new building and parking lot. Don't worry a brand NEW Wachter park will be coming in …
Read More
Memorial Trees/Tree Trials/Forestry
Conservation
Did you know?? BPRD provides and protects wooded buffer zones in ecologically sensitive areas, supports community gardens and orchards, tree-planting activities (2,677 planted in the past three years) and an arboretum.  BPRD has embraced integrated pest management, is engaged in prairie restoration, xeriscape design, invasive species removal and planting native grasses, flowers and trees. Downed trees are repurposed for wood mulch.
---
Memorial Trees
Online maps of Memorial Tree locations are available.  Click on the following links to view the online maps: Arbor Day Tree Locations or Memorial & Dedication Tree Locations.  These maps offer information regarding the tree's location in Bismarck, when the tree was dedicated, and to whom it was dedicated.  Interested in honoring a loved one with a tree planting?  Click here for more information.
Bismarck Parks and Recreation District's Memorial Donation Policy (PDF Download).
---
Western Tree Trials
Few tree species grow well in North Dakota's climate, making it difficult to develop a diverse plant community.  Bismarck Parks and Recreation District (BPRD) partnered with ND State University's Woody Plants Research Department in 2016 to study underutilized tree species.  The Western Tree Trials will determine the adaptability of 40 tree cultivars. NDSU will provide BPRD with 160 trees over a two-year period, four each of 40 tree cultivars. This partnership allows BPRD to try a variety of new trees, enhance the beauty and diversity of parks and support tree research.
---
Bismarck Forestry Division
The Bismarck Forestry Division manages the trees on City and Park District properties. Bismarck has 15,000+ park trees, 20,000+ street trees, and many more trees standing on golf courses, along recreation trails, and in natural wooded areas. The division assists individuals and organizations planning memorial or dedication plantings and other special tree plantings in public areas. The forestry division organizes Bismarck's annual Arbor Day ceremony each May. Foresters are often invited to discuss tree related issues with civic organizations and in classrooms throughout the city.
Foresters consult with parks and recreation district administrators and planners concerning tree planting projects and activities or changes on park property where trees are involved.
Park trees are pruned on a seven-year rotation prune cycle. Routine inspections of park trees serve to identify hazardous trees and provide a safe environment for park users.
Technical assistance for tree and shrub problems on private property is provided by appointment for a nominal fee.
Wood chips suitable for landscape mulch are available for sale at the City Landfill for $.02 per pound (minimum charge of $1). Tree logs suitable for firewood are available for sale at the City Landfill for $15.00 per ton. To purchase either wood chips or tree logs stop at the Scale House at the City Landfill for instructions.
For more information, call the Forestry Division at 701-355-1733 or visit our web page at www.bismarck.org/forestry.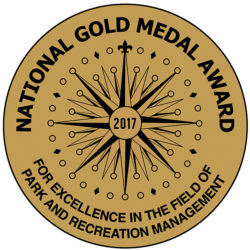 Winner, 2017 National Gold Medal Award for Excellence in the Field of Parks and Recreation