Alerts
Moses 4th & 5th Grade Basketball Practices Cancelled Tonight Thursday, December 14.
Due to music program.  Moses Practices are rescheduled for Friday, December 15: 5th grade at 4-5pm and 4th grade at 5-6pm.
Indoor public skating Saturday, Dec. 16 at the Capital Ice Complex has been cancelled.
Due to a hockey tournament.
The Pebble Creek Recreational Trail is closed from 19th St. to the Century Ave. bridge.
Wachter Park will be closed until Fall of 2017.
Due to the construction of the new rink at Schaumberg, the current Wachter Park is closed and will be replaced to make way for the new building and parking lot. Don't worry a brand NEW Wachter park will be coming in …
Read More
Safety Tips
Bismarck's population is growing, and so are safety and security concerns.  Bismarck Parks and Recreation District (BPRD) has addressed this issue through development and annual review of emergency procedures, installation of security cameras, secured entry points, staff training conducted by Bismarck Police Department (BPD), security audits in five facilities, securing a host at a remote campground, front desk security training and reviewing staffing levels. The BPD patrols riverfront trails and parks with ATV's, UTV's, bikes and Segway's, providing a safer environment for park and trail users.  BPD reports a 20% decrease in calls to parks in 2016 as compared to 2015.
Walking alone in the Park
Walk with a purpose, hold your head up straight and look where you are going
Keep your hands free and ready to react to danger
Don't talk on the cell phone
Check your car when approaching it- look on both sides and the backseat
Check the vehicles close by- who is inside/what are they doing
Get in your car- lock the doors and drive away
For more information, please visit the Bismarck Police website: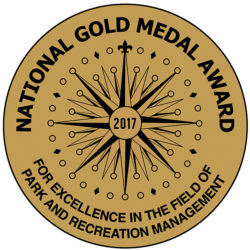 Winner, 2017 National Gold Medal Award for Excellence in the Field of Parks and Recreation