Alerts
Kidzone, at Capital Racquet & Fitness Center, will be closed on Wednesday, Nov. 22
The Pebble Creek Recreational Trail is closed from 19th St. to the Century Ave. bridge.
Wachter Park will be closed until Fall of 2017.
Due to the construction of the new rink at Schaumberg, the current Wachter Park is closed and will be replaced to make way for the new building and parking lot. Don't worry a brand NEW Wachter park will be coming in …
Read More
Pioneer Park
You could call Pioneer Park a sibling to Chief Lookings Village. Located just "below" Chief Lookings Village, Pioneer Park is a beautiful place for you to park and then start your walk, or run, or bike, or skate along the beautiful trails next to the Missouri River. Want MORE of a challenge? Head to the mountain bike trails nearby. When you get back, rest at the eagle sculpture or in the picnic shelter. The sand volleyball courts here are well used during the summer. Play on the playground or go explore the nearby wooded areas. Lots of green going on in this park.
Park Amenities
Mountain Bike Trail
Parking
Picnic Shelter (reservable)
Playground
Restrooms
Sand Volleyball Courts
Walking Trail
 

Click on map image to view printable PDF.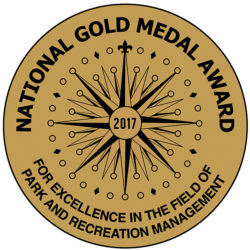 Winner, 2017 National Gold Medal Award for Excellence in the Field of Parks and Recreation