Alerts
The ramp in the program pool at BSC AWC will be unavailable from Thursday, Sept. 21 at Noon until sometime on Saturday, Sept. 23.
Please advise staff should you need to use the lift for pool entry and exit.
Portions of Wachter Trail Closed
MDU is performing utility updates along University Ave. between the street and the Wachter shared use path (along the drainage channel), from Wachter Drive to Bismarck Expressway. The trail in this area is closed until these updates are completed. Trail …
Read More
The Pebble Creek Recreational Trail is closed from 19th St. to the Century Ave. bridge.
Wachter Park will be closed until Fall of 2017. Wachter Pool will be open for the summer.
Due to the construction of the new rink at Schaumberg, the current Wachter Park is closed and will be replaced to make way for the new building and parking lot. Don't worry a brand NEW Wachter park will be coming in …
Read More
Cross Country Skiing
Riverwood Golf Course, 725 Riverwood Drive
Hours (weather permitting)
Monday – Sunday: 10am – 5pm
Skiers and snowshoers please check in with Riverwood staff before heading out on the trails.
Ski Rental (Rentals include skis, boots and poles)
(March 16 last day for rentals)
Adults: $7
Youth (21 and younger): $3
Snowshoe Rental
Adults: $7
Youth (21 and younger): $3
Fees apply if taking the snowshoes off property.
For more information
Call Riverwood Golf Shop at 250-7677.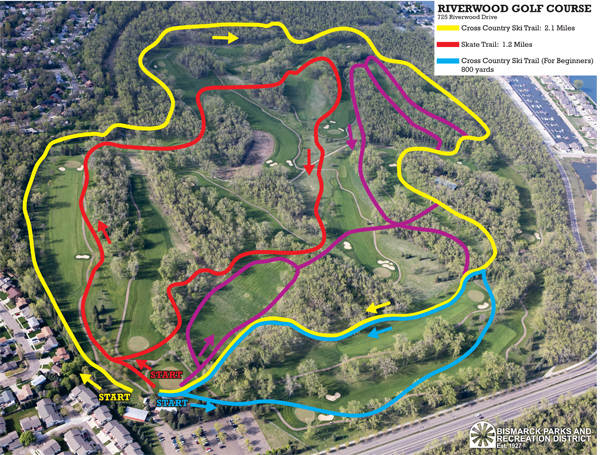 ---
 General Sibley Park and Campground
General Sibley Park is located on South Washington Street four miles south of the Bismarck Expressway.
Hours
Seven days a week during daylight hours
Ski Rental (available at Riverwood Golf Course Only)
People can bring their own skis, or rents skis at Riverwood Golf Course, 725 Riverwood Drive, Bismarck, and bring them to General Sibley Park, and return them to Riverwood when finished.
Adults: $7
Youth (21 and younger): $3
For more information
Call General Sibley at 222-1844.