Alerts
Moses 4th & 5th Grade Basketball Practices Cancelled Tonight Thursday, December 14.
Due to music program.  Moses Practices are rescheduled for Friday, December 15: 5th grade at 4-5pm and 4th grade at 5-6pm.
Indoor public skating Saturday, Dec. 16 at the Capital Ice Complex has been cancelled.
Due to a hockey tournament.
The Pebble Creek Recreational Trail is closed from 19th St. to the Century Ave. bridge.
Wachter Park will be closed until Fall of 2017.
Due to the construction of the new rink at Schaumberg, the current Wachter Park is closed and will be replaced to make way for the new building and parking lot. Don't worry a brand NEW Wachter park will be coming in …
Read More
Volleyball
Adult Winter League
Winter season sign-up will be in December. Space is limited! Teams accepted on a first-come, first-served basis.
Registration: December 6
Program Dates: January 8 – March 22
Winter League Player Fee Form (ONLY for teams that paid the $100 sponsor fee)
Openings are limited! Please call the Bismarck Parks and Recreation District office the first week in December for additional information.
Days
Monday: Women C,D,E,F
Tuesday: Coed A – F
Wednesday: Women A – F, Men C – D
Thursday: Men A – C, Coed D – F• Makeup matches will be held on Sundays
6:30pm start time for most locations with matches scheduled every 45-50 minutes. Latest start time is 9:30pm.
Makeup matches will be held on Sundays
Player Fee
$40/player/per season
New team rosters and fees are due Wednesday, December 6 or a late fee may be charged.
Teams that signed up for both seasons (Fall and Winter) must have their winter player fees in by Wednesday, December 6 or a late fee may be charged.
Teams must pay for at least 7 players.
Every player listed on roster must pay a player fee.
The team manager or representative is responsible to collect all player fees and submit them by the deadline. Please do not send players to our office to pay individually.
Sponsor Fee
League Schedules
Online at bisparks.org by January 2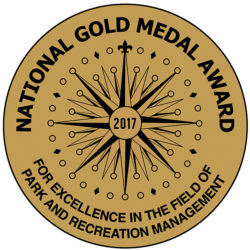 Winner, 2017 National Gold Medal Award for Excellence in the Field of Parks and Recreation