Alerts
Fox Island fish cleaning station is currently out of order – due to some equipment failure.
We hope to have it back open soon.
Portions of Wachter Trail Closed
MDU is performing utility updates along University Ave. between the street and the Wachter shared use path (along the drainage channel), from Wachter Drive to Bismarck Expressway. The trail in this area is closed until these updates are completed. Trail …
Read More
The Pebble Creek Recreational Trail is closed from 19th St. to the Century Ave. bridge.
Wachter Park will be closed until Fall of 2017.
Due to the construction of the new rink at Schaumberg, the current Wachter Park is closed and will be replaced to make way for the new building and parking lot. Don't worry a brand NEW Wachter park will be coming in …
Read More
Activ8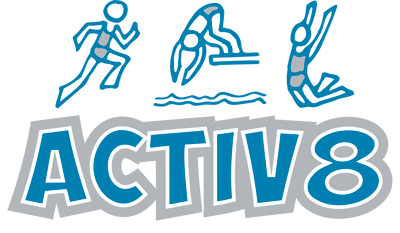 This fun and active 6-week program consists of 45-minute structured water and non-water activities twice a week for kids 8-12 years of age. It is designed to increase children's physical activity, self confidence, and nurture long term behavior. Our goal is that every child finds their niche in physical activity. It doesn't matter if they are athletic or not, we want to inspire kids to MOVE and have FUN! Children must be comfortable in the water.
Age, Location, and Fees.
| | | | |
| --- | --- | --- | --- |
| Date | Day | Time | Code |
| April 4 – May 11 | T | 6:30-7:15pm (Land) | 8973 |
| | Th | 6:30-7:15pm  (Water) | |

Parent Testimonial:
"Our son is currently in the Activ8 class and loves it! And for a kiddo that isn't really excited about organized sports, we are loving that he is now excited about moving and exercising!   Thanks for offering that program!"  – KB