Alerts
Moses 4th & 5th Grade Basketball Practices Cancelled Tonight Thursday, December 14.
Due to music program.  Moses Practices are rescheduled for Friday, December 15: 5th grade at 4-5pm and 4th grade at 5-6pm.
Indoor public skating Saturday, Dec. 16 at the Capital Ice Complex has been cancelled.
Due to a hockey tournament.
The Pebble Creek Recreational Trail is closed from 19th St. to the Century Ave. bridge.
Wachter Park will be closed until Fall of 2017.
Due to the construction of the new rink at Schaumberg, the current Wachter Park is closed and will be replaced to make way for the new building and parking lot. Don't worry a brand NEW Wachter park will be coming in …
Read More
American Red Cross Lifeguarding Class
American Red Cross Lifeguarding Class
Interested in being a lifeguard? Through videos, group discussion and hands-on practice, you'll learn teamwork, rescue and surveillance skills. This course provides participants with the knowledge and skills to prevent, recognize and respond to aquatic emergencies and to provide professional-level care for breathing and cardiac emergencies, injuries, and sudden illnesses until emergency medical services (EMS) personnel take over. Completing the course results in a 2-year certification in Lifeguarding/CPR/AED/First Aid, all in one certificate.
Candidates must meet these requirements for class:
Be at least 15 years old on or before the final scheduled session of the course.
Complete the online learning portion of the course BEFORE class begins.
Swim 300 yards, continuously demonstrating breath control and rhythmic breathing. Candidates may swim using the front crawl, breast stroke or a combination of both, swimming on the back or side is NOT allowed. Swim goggles may be used.
Tread water for two minutes using only their legs. Candidates should place their hands under their armpits.
Complete a timed event with 1 minute, 40 seconds. Swim goggles are not allowed.

Starting in the water, swim 20 yards, surface dive to a depth of 7-10 feet to retrieve a 10-pound object
Return to the surface and swim 20 yards on the back to return to the starting point with both hands holding the object and keeping the face at or near the surface so they are able to get a breath.
Exit the water without using a ladder or steps.
If the candidate is not able to pass the Prerequisite Skills, they will be issued a full refund.
Males must wear boxer style swimming suit and females must wear a one piece swimming suit. Any person with long hair will be required to put it up or wear a swim cap.
Fees and Registration:
Cost $250 Register online or in person at the Park District Office and the BSC Aquatic & Wellness Center. Includes Fanny Pack, Adult and Infant CPR masks, and $35 fee to the Red Cross for the online learning materials.
All Class times and dates are MANDATORY
Once registered, participants will receive instructions via e-mail for the Red Cross Online Learning. The online material must be fully completed before the first day of class. Proof of completion will be required before class begins.
Maximum enrollment: 8
| | |
| --- | --- |
| Dates | Code |
| April 5-6: 5 – 9pm; April 7-8: 9am – 5pm | 10821 |
---
Lifeguarding Recertification Class
Need to be recertified? Please see course description and requirements for the Lifeguarding class, as they are the same requirements for recertification. Questions? Call Jahna at 751-4270.
| | | |
| --- | --- | --- |
| Date/Time | Fee | Code |
| Feb. 25: 9am – 7pm | $150 | 11008 |
---
Employment:
For information on how to apply for Lifeguard position, please visit our Jobs Page.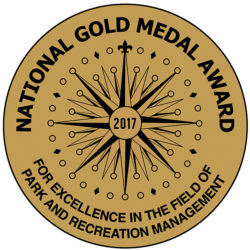 Winner, 2017 National Gold Medal Award for Excellence in the Field of Parks and Recreation