Alerts
Moses 4th & 5th Grade Basketball Practices Cancelled Tonight Thursday, December 14.
Due to music program.  Moses Practices are rescheduled for Friday, December 15: 5th grade at 4-5pm and 4th grade at 5-6pm.
Indoor public skating Saturday, Dec. 16 at the Capital Ice Complex has been cancelled.
Due to a hockey tournament.
The Pebble Creek Recreational Trail is closed from 19th St. to the Century Ave. bridge.
Wachter Park will be closed until Fall of 2017.
Due to the construction of the new rink at Schaumberg, the current Wachter Park is closed and will be replaced to make way for the new building and parking lot. Don't worry a brand NEW Wachter park will be coming in …
Read More
Baseball – American Legion & Babe Ruth, Ages 16 – 18

American Legion Baseball:
Competition in 2017 is open to players born on or after January 1, 1998. Any player born in 1997 or before, is not eligible to play American Legion Baseball. 2016 High School graduates may only play for the Legion team they played for during the 2016 season. If a player is born in 1998 or 1999, that player must play in the Senior Legion Baseball program.
Babe Ruth Baseball:
Any player born prior to May 1, 2001, and on or after January 1, 1998, will be eligible for Babe Ruth Baseball 16 – 18 division. If there is enough interest, we will plan to have three teams.
Raffle Winners
July 1, John Holmen
July 2, Chris Nordberg
July 3, Matt Wilke
July 4, James Jeske
July 5, Steve Miller
July 6, Ronald Dawson
July 7, Julie Ward
July 8, Cathy Schatz
July 9, Janell Quinlan
July 10, Tammy Ibach
July 11, Harvey Haakenson
July 12, Amy Siverson
July 13, Debbie Davis
July 14, Jay Parisien
July 15, Kristin Ziegler
July 16, Thomas Halvorson
July 17, Debra Anderson
July 18, David Weikum
July 19, Ryan Johnson
July 20, Jake Olson
July 21, Donald Kosiak
July 22, Carla Craigmile
July 23, Randy Ziegler
July 24, Susan Frueh
July 25, Eric Johnson
July 26, William Toay
July 27, Chandler Aarfor
July 28, Melissa Klimpel
July 29, Kevin Ziegler
July 30, Bjorn Saude
July 31, Cyndy Zacher
August 1, Dave Stiefel
August 2, Matt Kulling
August 3, Harvey Christian
August 4, Steven Thomas
August 5, Rob Fischer
---
Rain Out Policy
In case of inclement weather, every effort will be made to determine diamond playability by 7:45am for day programs or 4pm for evening programs. Please check the Bismarck Parks and Recreation District website ALERT bar on the front page of the website. You may also choose to "Like" the BPRD Facebook page, since weather notifications are also posted there. You can also call the BPRD information line at 222-6479.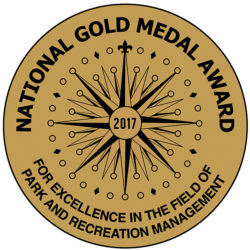 Winner, 2017 National Gold Medal Award for Excellence in the Field of Parks and Recreation