Alerts
Fox Island fish cleaning station is currently out of order – due to some equipment failure.
We hope to have it back open soon.
Portions of Wachter Trail Closed
MDU is performing utility updates along University Ave. between the street and the Wachter shared use path (along the drainage channel), from Wachter Drive to Bismarck Expressway. The trail in this area is closed until these updates are completed. Trail …
Read More
The Pebble Creek Recreational Trail is closed from 19th St. to the Century Ave. bridge.
Wachter Park will be closed until Fall of 2017.
Due to the construction of the new rink at Schaumberg, the current Wachter Park is closed and will be replaced to make way for the new building and parking lot. Don't worry a brand NEW Wachter park will be coming in …
Read More
Basketball, Girls 4th & 5th Grade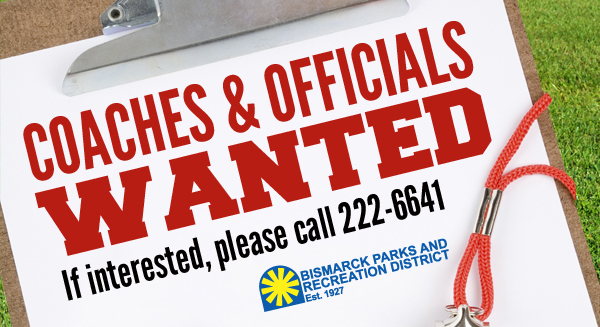 Girls youth basketball is a recreational program that is aimed to teach students going into grades 4th and 5th the fundamentals, skills, and sportsmanship of the game. These basics include passing, dribbling, shooting, and teamwork. Participants will learn through drills, scrimmages, and games. Our emphasis is on equal play time, and most of all, FUN! The 4th and 5th grades program has season-ending jamborees.
League Dates:
Girls' Grade 4: September 5 – October 28
Girls' Grade 5: September 5 – November 4
Informational Meeting
No informational meeting for 4th and 5th grades. Information sheets will be available upon registration.
Days/Times for most schools:
4th grade will have one practice a week and 5th grade will have two practices a week.
First week of practice should be Tuesday, Thursday, and/or Friday
Due to gym availability, some schools may have different practice schedules. You will be notified through the school office and/or team coach.
Teams will be formed after the first week of practice and a schedule will be provided for the remainder of the season. Every attempt will be made to split the teams as equally as possible, when more than one team exists at any school.
Fees
Girls' Grade 4: $50/player – if received on or before August 18.
Girls' Grade 4: $60/player – if received August 19 or later.
Girls' Grade 5: $60/player – if received on or before August 18.
Girls' Grade 5: $70/player – if received August 19 or later.
Participants must play at the school they attend.
| | | |
| --- | --- | --- |
| School | 4th Grade Code | 5th Grade Code |
| Centennial | 9767 | 9785 |
| Grimsrud | 9768 | 9786 |
| High. Acres | 9769 | 9787 |
| Liberty | 9770 | 9788 |
| Lincoln | 9771 | 9789 |
| Martin Luther | 9772 | 9790 |
| Miller | 9773 | 9791 |
| Moses | 9774 | 9792 |
| Murphy | 9775 | 9793 |
| Myhre | 9776 | 9794 |
| Northridge | 9777 | 9795 |
| Pioneer | 9778 | 9796 |
| Prairie Rose | 9779 | 9797 |
| Roosevelt | 9780 | 9798 |
| Shiloh | 9781 | 9799 |
| Solheim | 9782 | 9800 |
| Sunrise | 9783 | 9801 |
| Will-Moore | 9784 | 9802 |