Alerts
Squirts and Mites (8:30am and 10am) Baseball/Softball has been cancelled for today, July 18 due to poor field conditions.
Bill Mills Trails is closed due to high river elevations.
The Washington Trail from 57th Ave NW to Restful Dr. is temporarily closed for construction.
Two segments of the Cottonwood Park trail, 2506 South 12th St., are closed until further notice due to construction of additional softball fields. 
Junior Team Tennis Challenge
Date:
June 14th to July 26th
||
Events
---
Join in on the fun with Junior Team Challenge in a low-pressure learning environment. An introduction to tennis competition focusing on team play, parent information and challenging players' skills. Kids of all ages can enjoy level-based competitive play in a fun, social setting.
Fridays from 10:30am-12:00pm
Sertoma Park Tennis Complex, 300 Riverside Park Road
Red Ball (ages 6-8)
Orange Ball (ages 9-10)
Green Ball (ages 11-12)
Informal match play in a fun setting! Prizes every time!
June 14 Registration Code: 16460
June 21 Registration Code: 16461
June 28 Registration Code: 16462
July 12 Registration Code: 16463
July 19 Registration Code: 16464
July 26 Registration Code: 16465

---
$7 first child/$3.50 second child each time
*to receive the second child discount you must register in person at Capital Racquet and Fitness Center
Parents! Come participate in a beginner/intermediate drop-in league during the same times your kids play! Adults will be playing on adjacent courts during the program. Cost to you is FREE to play!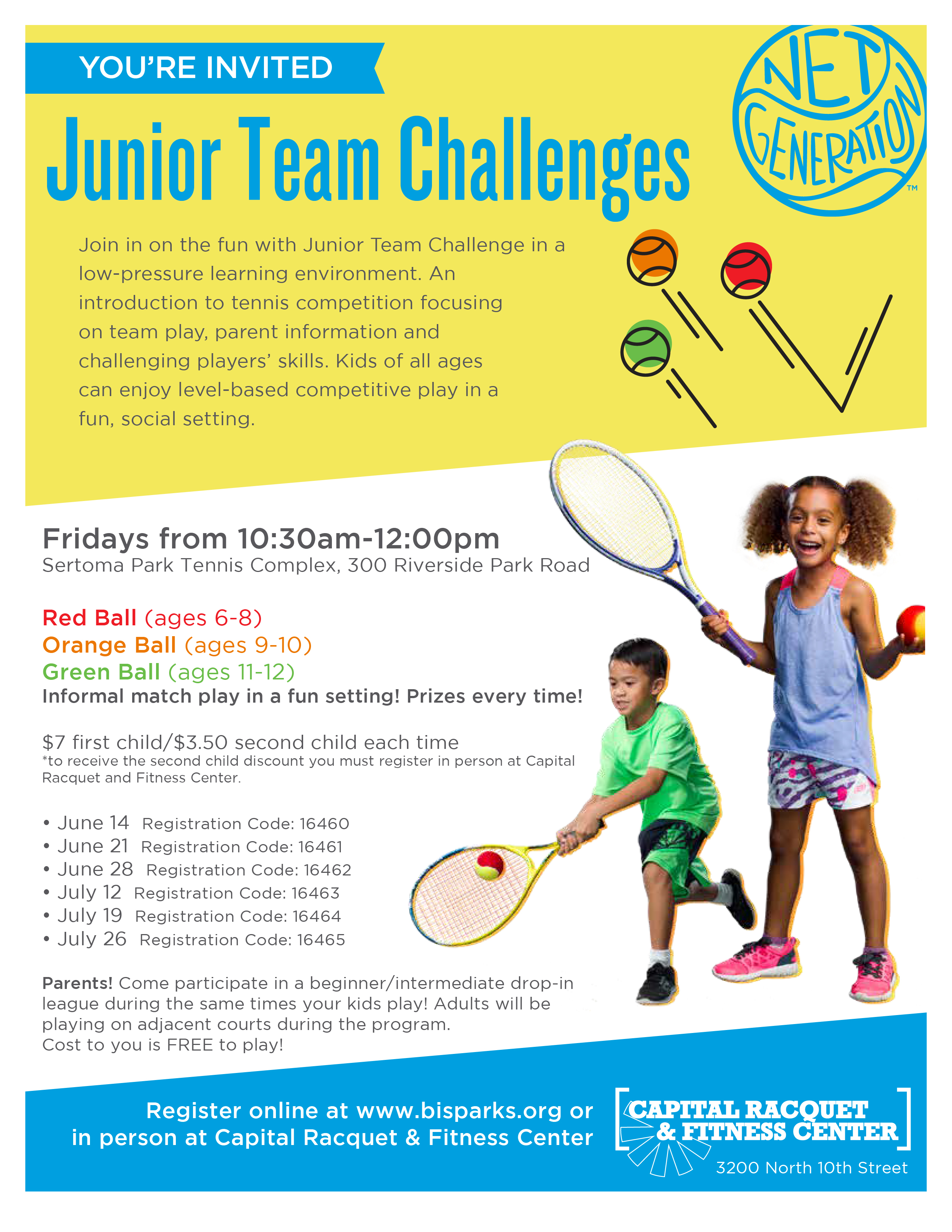 Winner, 2017 National Gold Medal Award for Excellence in the Field of Parks and Recreation