Park of the Week
Did you know? Bismarck has 54 parks. Yes. Fifty. Four. Bismarck Parks and Recreation will help you explore a few of them this summer. Each week for 10 weeks, we'll tell you a little bit about a park, what's there, and what you could find, learn and discover. Go check out the Park of the Week. Send us a picture of you and your family and friends enjoying that park, and tag us on Facebook or Instagram (@bismarckparks). We'll randomly choose one of the shared photos and send one lucky person a pass to the new Hillside Aquatic Center and a coupon good for a bucket of balls at the Fore Seasons Center. So, don't park yourself at home this summer, get out and into a park.
August 23-29
Igoe Park
This little eight-acre park is on the corner of W. Century Ave. and Tyler Parkway. With a fire station as a neighbor, the playgrounds here couldn't help but have a fire house and fire engine theme. The new play features include a tower type fire station for kids ages 5-12. It includes two slides and four climbing areas. Kids can use the telescope from the higher deck to "scope" out any fires, and then ring the bell. The other new play feature is a combination "merry go round" and a net climber that can hold several kids at a time.
Igoe Park also has a looped trail, large green space area, a picnic shelter and a horseshoe pit. You will find yourself chanting, "I go, we go, we all go to Igoe." You know you will.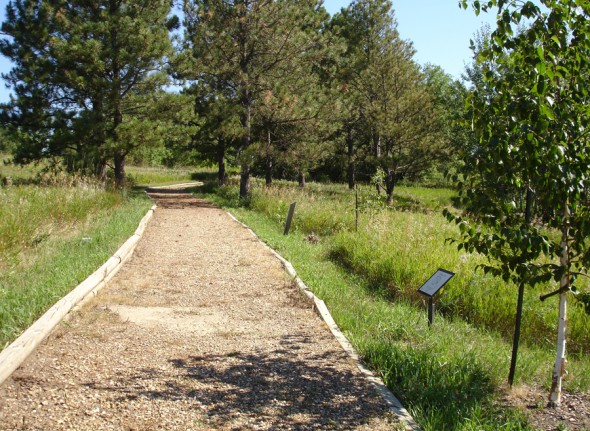 August 16-22
Bismarck Rotary Arboretum
The last Park of the Week you should explore is really a park within a park. Go and discover the Bismarck Rotary Arboretum. The arboretum, co-sponsored by the Bismarck Rotary Club, Bismarck Parks and Recreation and the Bismarck Forestry Department, is located inside (yes, INSIDE) the Tom O'Leary Golf Course in northwest Bismarck. The entrance is off Ward Road, a short distance south of Divide Avenue. The arboretum has 10 acres of peace and solitude, right in the center of Bismarck. You'll find 29 varieties of trees, natural grasses and gently sloping walkways to guide you through this plantation of trees.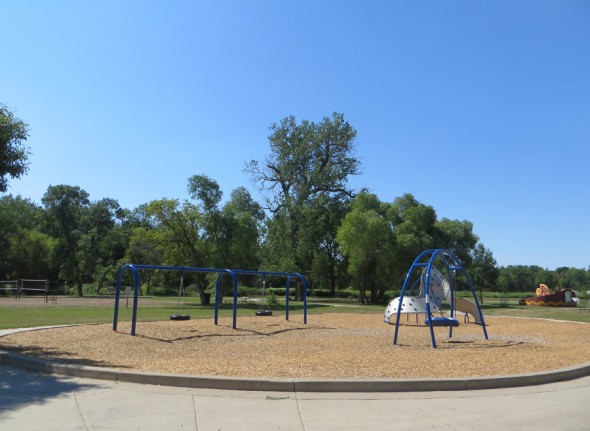 August 9-15
Pioneer Park
This park is a beautiful place for you to park and then start your walk, or run, or bike, or skate along the beautiful trails next to the Missouri River. Want MORE of a challenge? Head to the mountain bike trails nearby. When you get back, rest at the eagle sculpture or in the picnic shelter. The sand volleyball courts here are well used during the summer. Play on the playground or go explore the nearby wooded areas. Lots of green going on in this park.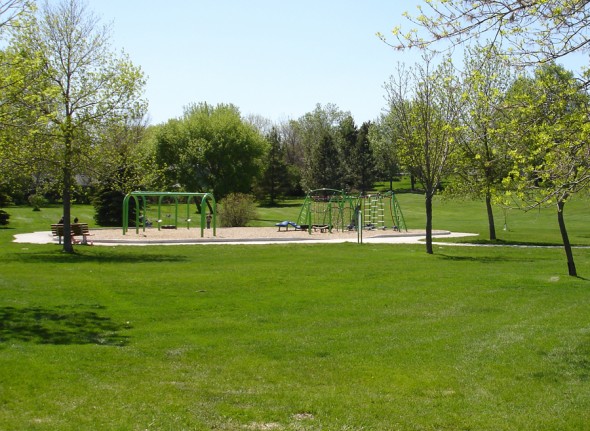 August 2-8
Jaycee Centennial Park
This park is located near the intersection of E. Century Ave and N. 4th St. The park wraps around the corner and provides, what seems like, two parks in one. One part of the park has the Jaycee Community Building, which is used for all kinds of special events and serves as the ice skating rink warming house during the winter, too. You also have the nearby shelter and playground. A small bridge in the park leads you to another playground. You can't help but want to run down the big hill (and run up it, too). Look for birds in the wooded areas on each side of the park. Trivia time: the ice hockey area was used for sand volleyball in the summer of 2011 when many of Bismarck's sand volleyball courts were flooded.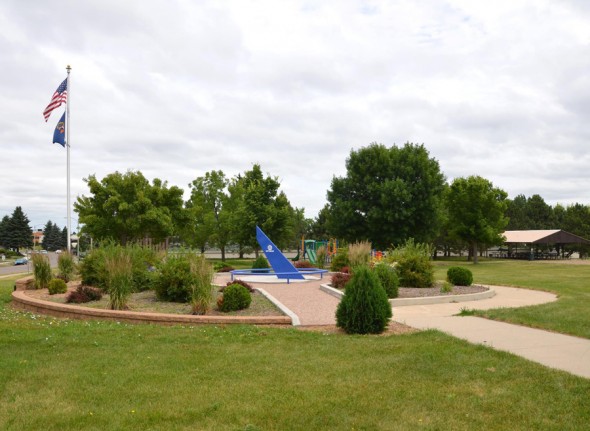 July 26-August 1
Optimist Family Park
Have you ever seen a sundial? Optimist Family Park is tucked away and appears before you as a green, family friendly neighborhood park on Spaulding Ave. and N. 17th St.  Bring along a basketball if you want to shoot some hoops, or a volleyball if you want to have a group activity. The Optimist Club has made renovations to the flag display, the landscaping and is very proud to have the only park with a working sundial. The sidewalk leads you to a picnic shelter and playground. This park makes you envious of the neighbors who get to look out and see the park every day.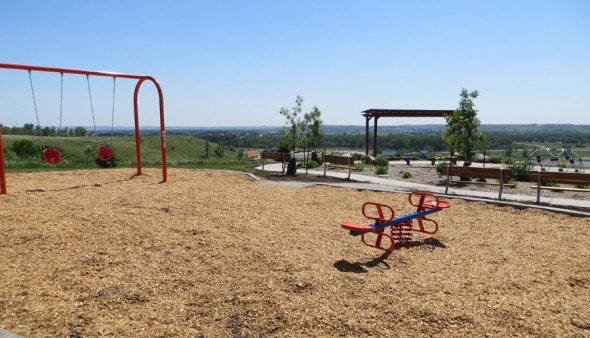 July 19-August 1
Sonali's Garden
Sonali's Garden is located on the Pioneer Park overlook, just past Chief Looking's Village (Mandan Indian Village) on Burnt Boat Road. Some say this is the prettiest view of the Missouri River. Adding to the beauty of the scene is this memorial park. There is a pergola and several benches for you to relax and take in the view. There are some play features, too, so have yourself a little swing or do some climbing at this peaceful place.
July 12-July 18
Custer Park
Did you know that this park is Bismarck's first park? This little gem is located on S. Washington St. and Broadway Ave. You may hear people say, "You know, that park with the eagle." This refers to the large, metal eagle sculpture in the center of the park. You can search for the peace pole, lounge under the pergola, do a dance on the stage in the park or have a nice conversation with your friend or family on a bench. See how many varieties of flowers you can find in the flower beds. Then go for a swim across the street at the Elks Pool.
July 5-July 11
23rd St. Playground
Ok, so this Park of the Week park isn't called a park, but it's a great park space, with a brand new playground. It's not hard to find on N. 23rd St., and you'll enjoy the playground's colors, the mesh, tent-like sun protectors, and the new little shelter next to the playground. Shoot some hoops on the basketball court. There's enough green space around for you to bring some friends and play a game of tag, soccer or baseball in this play space.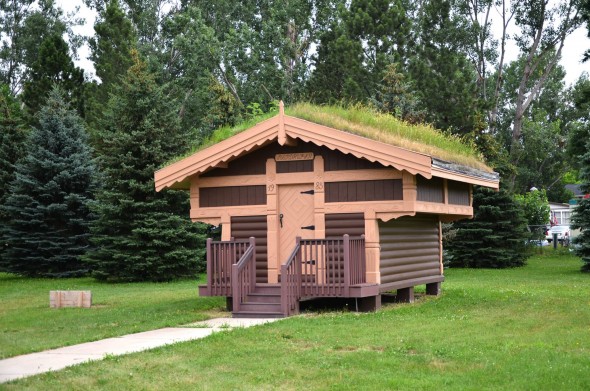 June 28 – July 4
Sons of Norway Park
This park has a good combination of "I want to just read a book" green space, combined with "Let's play tennis or volleyball or horseshoes." This park has two picnic shelters, a skate park and a softball field. One of the most visible parts of this park, which is located at 1502 E. Bismarck Expressway, is the replication of a stabbur. A stabbur is a storage house used on Norwegian farms of old. Pretty interesting roof, yes?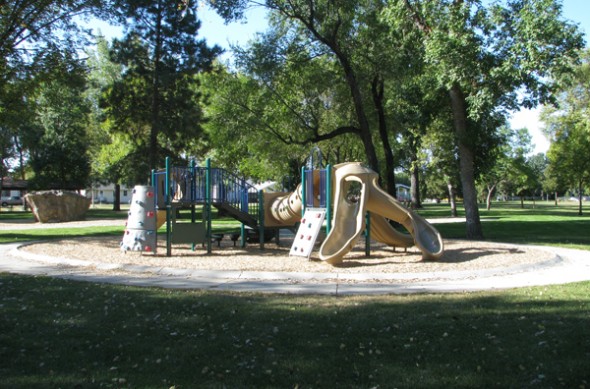 June 21-27
Kiwanis Park
This 13-acre park is located on S. Washington St., just south of Memorial Highway. There are two picnic shelters, so if you head to this park, pack a lunch or a snack. The park has two playgrounds; one for ages 2-5 and one for ages 5-12. There's a climbing net and an especially nice, large rock that kids like to climb on, too.  You can play some horseshoes, or a game of volleyball. The Bismarck Municipal Ballpark is located right across the street from Kiwanis Park. There's plenty of baseball to watch this summer, so as long as you're in the neighborhood, find the American Legion schedule and take in a game.