Alerts
Chief Looking's Village, 2023 Burnt Boat Dr., will be closed until further notice due to road conditions at the site.
GlideFit
Burn calories, improve strength, balance and flexibility in a fun, new way. You'll be introduced to a variety of exercises to build strength from head to toe while you raise your heart rate with the added bonus of firing stabilizers that often go unused.
Must be at least 12 years old
While GlideFit provides challenges to even the most fit individuals, the program is designed for universal scalability, making it the perfect fitness program for all levels, regardless of experience.
Participants should be comfortable in the water. You will have to enter the water and swim to your board. Clothing tip: Wear swim wear or other lycra-based clothing; no cotton.
Meet on the pool deck at BSC Aquatic & Wellness Center, 1601 Canary Ave
April Classes
 
Time
Day
Instructor
11-11:45am
Thursday
Risa
8-8:45pm
Thursday
Robby
11:30-12:15pm
Friday
Lisa
7-7:45pm
Mon
Robby
Drop-ins are available – please call 751-4266 to ensure there is an open spot. Drop-in cost: $20 per session. Your spot is reserved at time of purchase.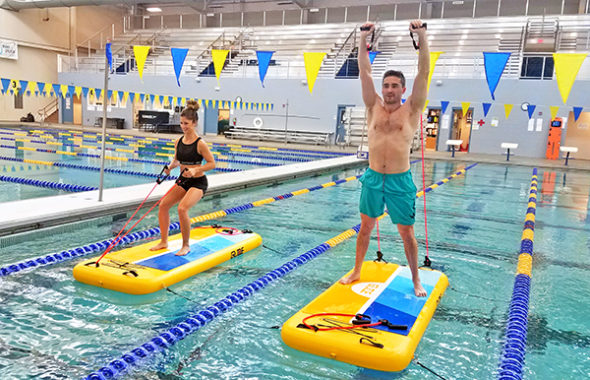 Winner, 2017 National Gold Medal Award for Excellence in the Field of Parks and Recreation