Alerts
The Fore Seasons Center dome is closed for repairs. Pebble Creek Golf Course is still open. Watch our website for future updates.
Bill Mills Trails is closed due to high river elevations.
Two segments of the Cottonwood Park trail, 2506 South 12th St., are closed until further notice due to construction of additional softball fields. 
GlideFit
Burn calories, improve strength, balance and flexibility in a fun, new way. You'll be introduced to a exercises that build strength from head to toe, raise your heart rate AND fire up stabilizers that often go unused. Yes, you can do this!
Pre-Registration Drop-In Classes:
Pre-registration is required for all GlideFit drop-in classes.
Individual class fees: Members – $7, Non-Members – $10
Classes are subject to cancellation due to low enrollment.
To register, you must have an ActiveNet account:

Click the register button and log into your ActiveNet account.
Click the 'Add to Cart' button.
You'll then receive the option to choose the individual classes.
May Classes
Day
Dates
Time
Focus
Instructor
Monday
Oct. 14 & 28
7:15-8pm
Tabata
Risa
Wednesday
Oct. 9 & 23
7:15-8pm
Yoga
Candace

Additional Info
Must be at least 10 years old
While GlideFit provides challenges to even the most fit individuals, the program is designed for universal scalability, making it the perfect fitness program for all levels, regardless of experience.
Participants should be comfortable in the water. You will have to enter the water and swim to your board. Clothing tip: Wear swim wear or other lycra-based clothing; no cotton.
Meet on the pool deck at BSC Aquatic & Wellness Center, 1601 Canary Ave
---
GlideFit Private – Group or Individual
Receive private instruction for yourself, friends, family or organization.
Groups:
Group session fee: $100. Groups up to 11 participants.
Participants must be at least 12 years old.
Private one hour sessions are $100 (group or individual)
Call or email Linsay at 701-751-4271 or lberg@bisparks.org to schedule.
Individual:
Receive one-on-one training with your chosen instructor.
Call or email Linsay at 701-751-4271 or lberg@bisparks.org to schedule.
| | | |
| --- | --- | --- |
| Sessions | Member | Non-Member |
| 1 – 1 hour | $35 | $41 |
| 8 – 1 hour | $233 | $281 |
| 8 – 45 min | $198 | $246 |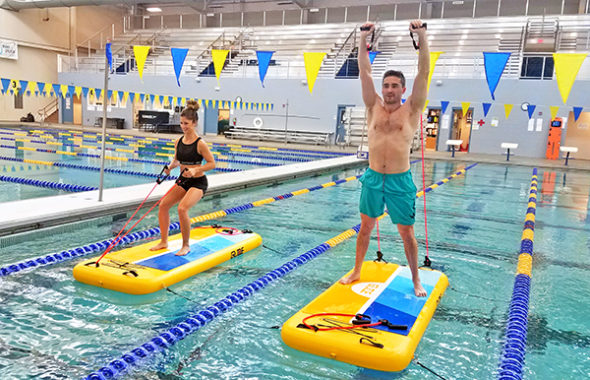 Winner, 2017 National Gold Medal Award for Excellence in the Field of Parks and Recreation