Alerts
All Babe Ruth Games and Practices have been cancelled for today, Wednesday, June 19.
All outdoor pools will be closed today, Wednesday, June 19 – due to the cool weather.
All youth baseball has been cancelled for this morning, Wednesday, June 19. Pictures have been rescheduled for Monday, June 24. Babe Ruth non-advancing practice has also been cancelled.
The Golf Putting League has been cancelled at Tom O'Leary Golf Course this week, June 18 & 19 – due to aerification of the greens.
The Washington Trail from 57th Ave NW to Restful Dr. is temporarily closed for construction.
Due to mechanical problems at Hillside Aquatic Complex, only the blue slide is currently working, the other water features are closed until further notice. The pool remains open.
Two segments of the Cottonwood Park trail, 2506 South 12th St., are closed until further notice due to construction of additional softball fields. 
GlideFit
Summer Glidefit
New this summer! Announcing family oriented Glidefit sessions with special pricing. Children 8-years-old and up can now join an adult in a Glidefit class. It's family fun and fitness in the water.
Pre-Registration Drop-In Classes:
Pre-registration is required for all GlideFit drop-in classes.
Individual class fees: Members – $4, Non-Members – $7
Classes are subject to cancellation due to low enrollment.
To register, you must have an ActiveNet account:

Click the register button and log into your ActiveNet account.
Click the 'Add to Cart' button.
You'll then receive the option to choose the individual classes.
June Classes
Day
Dates
Time
Focus
Instructor
Saturday
June 8 & 15
10-10:45am
Yoga Fusion
Candace
Saturday
June 29
10-10:45am
Tabata
Risa

Additional Info
Participants should be comfortable in the water. You will have to enter the water and swim to your board. Clothing tip: Wear swim wear or other lycra-based clothing; no cotton.
Meet on the pool deck at BSC Aquatic & Wellness Center, 1601 Canary Ave
---
GlideFit Private – Group or Individual
Receive private instruction for yourself, friends, family or organization.
Groups:
Group session fee: $100. Groups up to 11 participants.
Participants must be at least 12 years old.
Private one hour sessions are $100 (group or individual)
Call or email Linsay at 701-751-4271 or lberg@bisparks.org to schedule.
Individual:
Receive one-on-one training with your chosen instructor.
Call or email Linsay at 701-751-4271 or lberg@bisparks.org to schedule.
| | | |
| --- | --- | --- |
| Sessions | Member | Non-Member |
| 1 – 1 hour | $35 | $41 |
| 8 – 1 hour | $233 | $281 |
| 8 – 45 min | $198 | $246 |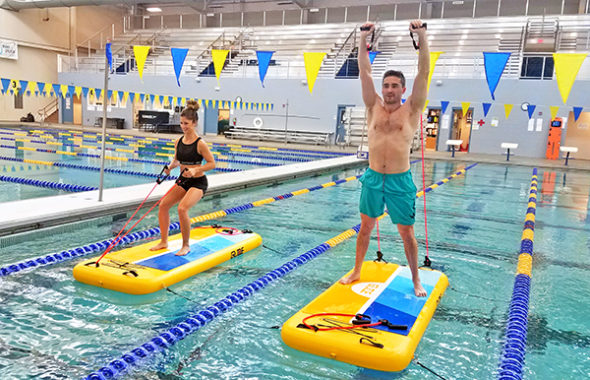 Winner, 2017 National Gold Medal Award for Excellence in the Field of Parks and Recreation