Alerts
BSC AWC Aqua Zumba Fitness Class has been cancelled this Saturday, Feb. 24 from 9-9:45am, due to the swim meet.
All pools are closed at BSC Aquatic & Wellness Center on Saturday, Feb. 24.
Due to Swim Meet.
The indoor track at Capital Racuqet & Fitness Center will be closed February 17, 23 & 24.
Due to tennis tournaments.
GlideFit
Burn calories, improve strength, balance and flexibility in a fun, new way. You'll be introduced to a variety of exercises to build strength from head to toe while you raise your heart rate with the added bonus of firing stabilizers that often go unused.
Must be at least 12 years old
Capital Racquet & Fitness Center or BSC Aquatic & Wellness Center Members: $48; Non-Members: $64
While GlideFit provides challenges to even the most fit individuals, the program is designed for universal scalability, making it the perfect fitness program for all levels, regardless of experience.
Participants should be comfortable in the water. You will have to enter the water and swim to your board. Clothing tip: Wear swim wear or other lycra-based clothing; no cotton.
Meet on the pool deck at BSC Aquatic & Wellness Center, 1601 Canary Ave
March 1-28
 
 
Four 45-minute Sessions
Time
Day
Instructor
Code
7-7:45pm
Monday
Robby/Sheila
11297
12-12:45pm
Tuesday
Kayleen
11298
7-7:45pm
Tuesday
Risa/Robby
11299
5:45-6:30am
Wednesday
Robby
11301
7-7:45pm
Wednesday
Katie
11300
12-12:45pm
Thursday
Risa
11302
7-7:45pm
Thursday
Robby
11303
8-8:45pm
Thursday
Ryan
11305
5:45-6:30am
Friday
Katie
11306
8-8:45am
Saturday
Robby
11304
11:30-12:15pm
Fri (March 9-30)
Lisa
11307

April 3-28 
 
 
Four 45-minute Sessions
Time
Day
Instructor
Code
12-12:45pm
Tuesday
Kayleen
11312
7-7:45pm
Tuesday
Risa
11313
5:45-6:30am
Wednesday
Robby
11314
7-7:45pm
Wednesday
Katie
11315
12-12:45pm
Thursday
Risa
11317
7-7:45pm
Thursday
Robby
11316
8-8:45pm
Thursday
Ryan
11318
5:45-6:30am
Friday
Katie
11319
11:30-12:15pm
Friday
Lisa
11320
8-8:45am
Saturday
Robby
11321
7-7:45pm
Mon (April 9-30)
Robby/Sheila
11311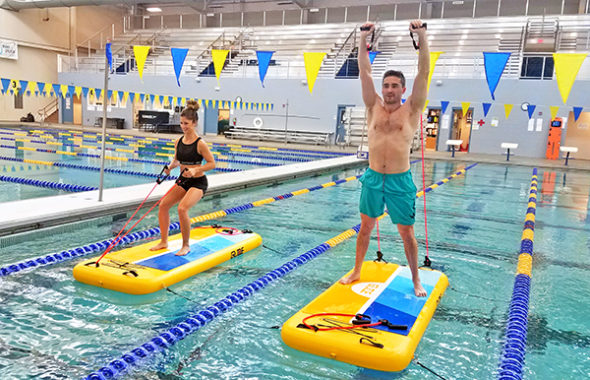 Winner, 2017 National Gold Medal Award for Excellence in the Field of Parks and Recreation