Alerts
Moses 4th & 5th Grade Basketball Practices Cancelled Tonight Thursday, December 14.
Due to music program.  Moses Practices are rescheduled for Friday, December 15: 5th grade at 4-5pm and 4th grade at 5-6pm.
Indoor public skating Saturday, Dec. 16 at the Capital Ice Complex has been cancelled.
Due to a hockey tournament.
The Pebble Creek Recreational Trail is closed from 19th St. to the Century Ave. bridge.
Wachter Park will be closed until Fall of 2017.
Due to the construction of the new rink at Schaumberg, the current Wachter Park is closed and will be replaced to make way for the new building and parking lot. Don't worry a brand NEW Wachter park will be coming in …
Read More
Capital Ice Complex/Schaumberg Arena and Wachter Arena
221 E. Reno Avenue, Bismarck, ND, 58504 • 701-712-8918
The Capital Ice Complex is east of Wachter Park and the Wachter Aquatic Center, more commonly called the wave pool. The Capital Ice Complex is home to Schaumberg Arena and Wachter Arena. The complex opened in November of 2017 with a renovated Schaumberg Arena, including six locker rooms and an expanded lobby. The brand new Wachter Arena includes six locker rooms, an officials' locker room, stadium seating for 490 and compressors with the latest technology. The Capital Ice Complex has a new entrance, new concessions space, new parking lots, new lobby, ticketing and ice skate rental spaces, offices for the hockey and ice skating clubs, new storage, a mezzanine level that overlooks both rinks, three community rooms, a dryland training space and puck shooting space. Additional improvements to the site include a new parking lot, and a new Magical Moments playground and picnic shelter at Wachter Park.
Public Skating Schedule and Fees
Saturdays: 3 – 5pm [No Skating on December 16]
Sundays: 6 – 8pm
Ice Skating Fees: $2/Individual; $5/family.
Ice Skate Rentals: $3/per pair of skates
Private Ice Rentals
$75/hour (2017); $85/hour (2018) (limited availability)
Reservations: call Dylan at 712-8918
Capital Ice Complex featuring Schaumberg Arena and Wachter Arena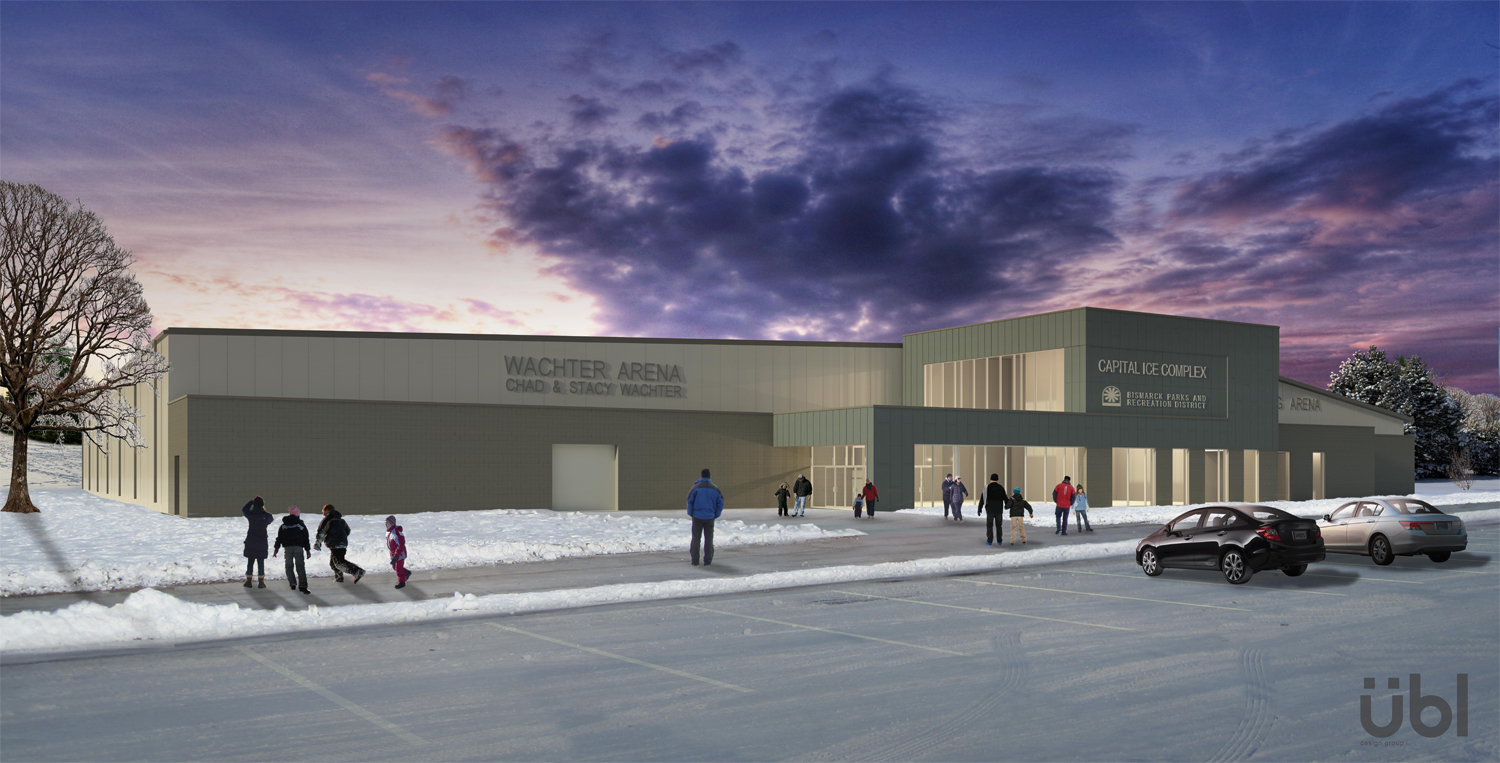 The "Building on Tradition" capital campaign raised just over $3.8 million for the campaign. Thank you to all donors for making this expansion possible. The Bismarck Hockey Boosters and the Bismarck Figure Skating Club made substantial donations to the project, as well as the Chad and Stacy Wachter family.
Donations for the project are still being accepted. Capital Ice Complex Pledge Form (PDF download)
Any questions on the project? Call Bismarck Parks and Recreation District at 701-222-6455.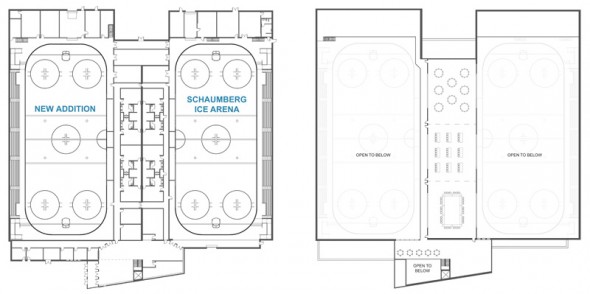 Community Partners in this Campaign: (link to their websites)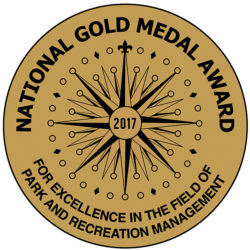 Winner, 2017 National Gold Medal Award for Excellence in the Field of Parks and Recreation