Alerts
Competition pools at BSC Aquatic & Wellness Center (Dive well pool 1 & 2) are CLOSED: Sept. 22 and Sept 29 from 3:30-8pm.
Program pool is OPEN.
Portions of Wachter Trail Closed
MDU is performing utility updates along University Ave. between the street and the Wachter shared use path (along the drainage channel), from Wachter Drive to Bismarck Expressway. The trail in this area is closed until these updates are completed. Trail …
Read More
The Pebble Creek Recreational Trail is closed from 19th St. to the Century Ave. bridge.
Wachter Park will be closed until Fall of 2017. Wachter Pool will be open for the summer.
Due to the construction of the new rink at Schaumberg, the current Wachter Park is closed and will be replaced to make way for the new building and parking lot. Don't worry a brand NEW Wachter park will be coming in …
Read More
Capital Ice Complex/Schaumberg Arena and Wachter Arena
221 E. Reno Avenue, Bismarck, ND, 58504 • 221-6813
The Capital Ice Complex is east of Wachter Park and the Wachter Aquatic Center, more commonly called the wave pool. The Capital Ice Complex is home to Schaumberg Arena and Wachter Arena. The complex is currently under construction. Upgrades and improvements are being made in Schaumberg Arena, and the Wachter Arena is a new sheet of ice. In addition to the new ice, the complex will have a new entrance and lobby, mezzanine, ticketing area, concessions, restrooms, dryland conditioning space, locker rooms, offices and storage. It is scheduled to be completed in the fall of 2017. Additional improvements to the site include a new parking lot, and a new playground and picnic shelter at Wachter Park.
Public Skating Schedule
Schaumberg Arena: Opens October 29
Wachter Arena: Opens TBA
Fees: $2/Individual; $5/family.
Private Ice Rentals
$75/hour (limited availability)
Reservations: call Mike at 221-6814
Dry Floor Rentals
Due to construction, dry floor rentals will be unavailable.
Capital Ice Complex featuring Schaumberg Arena and Wachter Arena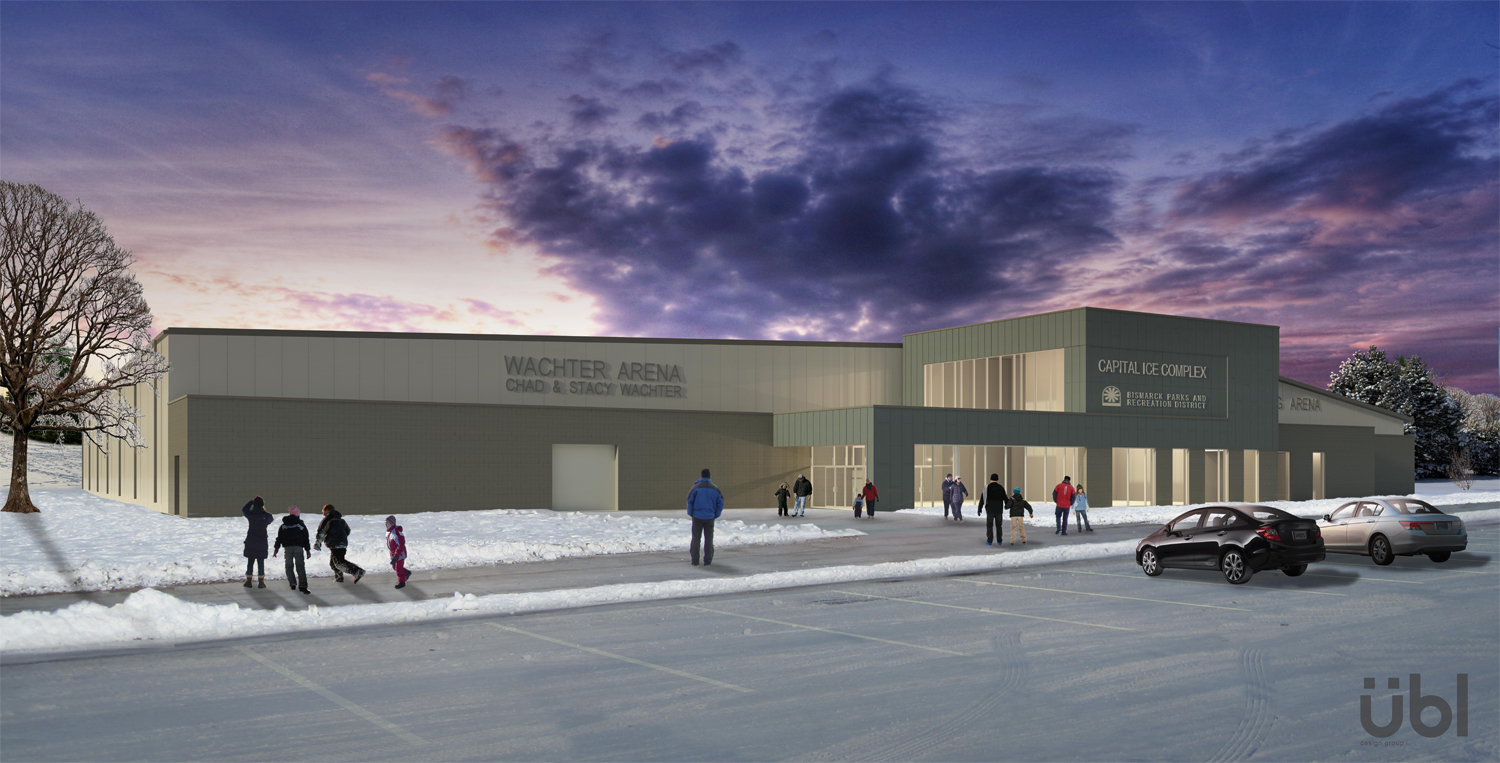 The "Building on Tradition" capital campaign raised just over $3.8 million for the campaign. Thank you to all donors for making this expansion possible. The Bismarck Hockey Boosters and the Bismarck Figure Skating Club made substantial donations to the project, as well as the Chad and Stacy Wachter family.
Donations for the project are still being accepted. Capital Ice Complex Pledge Form (PDF download)
Any questions on the project? Call Bismarck Parks and Recreation District at 701-222-6455.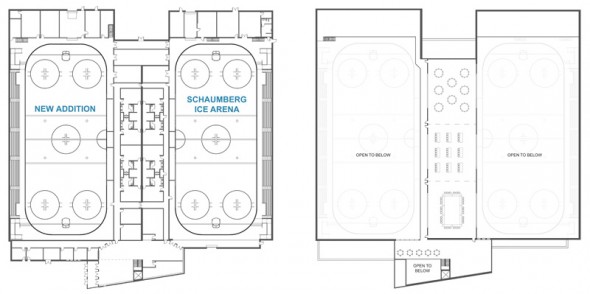 Community Partners in this Campaign: (link to their websites)