Activity Centers
---
2023 information will be posted in March.
Activity Centers provide summer recreational programming at selected elementary schools in a day-camp style setting for kids entering grades 1-6. Daily games, crafts, projects and outdoor fun and movement help participants increase social skills and enjoy active play in a safe and caring supervised environment. Activity Centers have limited enrollment.
| | | | |
| --- | --- | --- | --- |
| Ages | Dates | Days | Time |
| 1st – 6th Grade | June 6-Aug. 5 | M-F | 7:45am-5:30pm |
Must have completed kindergarten in the 2021-22 school year or be 6 years old by June 1, 2022. If your child is in kindergarten, but won't be 6 until after June 1, 2022, please come to Bismarck Parks and Recreation office to register.
Activity Centers close at noon on Aug. 5.
No program on July 4 and 5
There is no supervision before 7:45am or after 5:30pm.
We do not provide lunch or snacks, so please bring your own.
Fees
$475/child-if received on or before Thursday, April 28.
$485/child-if received Friday, April 29, or later.
When registering, the registration fee for Activity Center can be paid in one payment, or you may choose to split the payment in two. If the split payment option is picked, the first payment is made day of registration and the second payment is charged May 19, 2022.
The split payment option is only available on the Full Site – not mobile.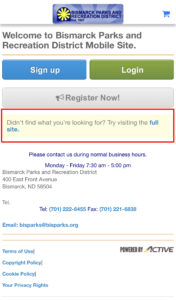 ---
TWO-STEP REGISTRATION PROCESS
Step One: Register your child(ren) for the selected Activity Center site either in person at the Administrative Office or online. Once your child(ren) is registered, you can then move to Step Two.
Step Two: You MUST email, print out or pick up the Activity Center Registration Packet and fill out all the pages. Return the completed packet to the Bismarck Parks and Recreation District Office within 48 hours of registering. Once your completed packet is received, your child(ren)'s registration is complete.

Download this Activity Center Registration Packet (fillable PDF) to your device. Do not fill it out in a web browser or the information you enter will not be saved.
| | | |
| --- | --- | --- |
| School | Location | Code |
| Centennial | 2800 Ithica Dr. | 22991 |
| Grimsrud | 716 St. Benedict Dr. | 22992 |
| Liberty | 5400 Onyx Dr. | 22993 |
| Northridge | 1727 N. 3rd St. | 22994 |
| Prairie Rose | 2200 Oahe Bend | 22995 |
| Rita Murphy | 611 N. 31st St. | 22996 |
| Roosevelt | 613 W. Ave. B | 22997 |
| Solheim | 325 Munich Dr. | 22998 |
| Sunrise | 3800 Nickerson Ave. | 22999 |
---
Junior Leader
Junior Leaders will learn the skills necessary to perhaps become an Activity Center Leader one day. A Junior Leader will assist the Leaders in organizing the games and daily activities, helping the Activity Center participants and helping prepare for the activities each day. The Junior Leaders assist the Leaders and learn leadership and problem-solving skills in a fast-paced, recreational environment.
Junior Leader applications can be submitted from April 1-15. BPRD staff will do a random drawing April 20, and applicants will be notified of the results.
Fees
Download this Application Form (fillable PDF) to your device. Do not fill it out in a web browser or the information you enter will not be saved.
$75/Junior Leader
Maximum of 4 leaders per site.
Junior Leaders must be going into 7th grade or older.