Alerts
13 & 14 Babe Ruth Games against Dickinson at Tatley Fields have been cancelled for today, Wednesday, June 19.
All outdoor pools will be closed today, Wednesday, June 19 – due to the cool weather.
All youth baseball has been cancelled for this morning, Wednesday, June 19. Pictures have been rescheduled for Monday, June 24. Babe Ruth non-advancing practice has also been cancelled.
High School Prep Tennis lessons have been moved to Capital Racquet & Fitness Center for today, Wednesday, June 19 from 1 – 2:30pm. High School Beginner Tennis lessons have been moved to Capital Racquet & Fitness Center for today, Wednesday, June 19 from 11-12:30pm
The Golf Putting League has been cancelled at Tom O'Leary Golf Course this week, June 18 & 19 – due to aerification of the greens.
The Washington Trail from 57th Ave NW to Restful Dr. is temporarily closed for construction.
Due to mechanical problems at Hillside Aquatic Complex, only the blue slide is currently working, the other water features are closed until further notice. The pool remains open.
Two segments of the Cottonwood Park trail, 2506 South 12th St., are closed until further notice due to construction of additional softball fields. 
Burleigh County Parks – Camping
Primitive camping is available at;
Steckel Boat Landing, 292nd Avenue NW; off 1804
Kimball Bottom Recreation Area, 10601 Desert Road
Kniefel Boat Landing, 5716 Misty Waters Drive
Sites are non-reservable and are available on a first come, first served basis.  No fee is charged for camping.
Camping at any one or more of the Burleigh County Parks for a period longer than 14 days during any 30-consecutive-day period is prohibited. Placement of camping equipment or other items on a campsite and\or personal appearance at a campsite without daily occupancy for the purpose of reserving that campsite for future occupancy is prohibited. Camping allowed only where authorized by site posting.
Hours
6:00am to 10:00pm, unless fishing or camping.
Rules
Use of snowmobiles and off-road vehicles is prohibited except as posted
Vehicles may travel only on established roadway and must be parked in designated parking areas.
Dogs must be leashed or penned. Pet excrement must be collected and properly disposed.
Horses, cattle and other livestock prohibited.
Discharge of firearms and propelled projectiles prohibited.
Fires must be contained in a fire ring.
Quiet must be maintained from 10:00pm to 7:00am
No loud or amplified music without a permit.
No littering.
No glass beverage containers.
Fireworks and firecrackers prohibited.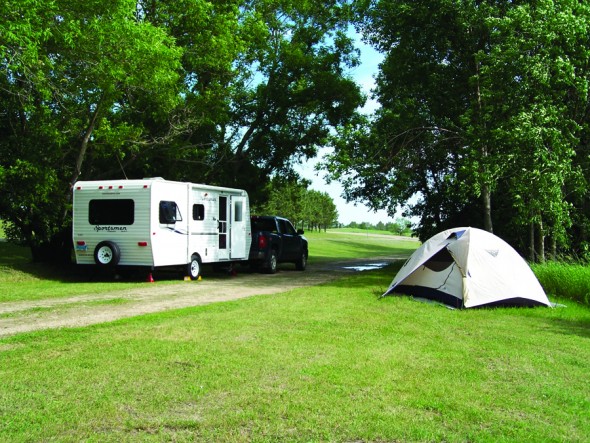 Winner, 2017 National Gold Medal Award for Excellence in the Field of Parks and Recreation