Alerts
The women's hot tub at Capital Racquet & Fitness Center will be closed for maintenance until further notice. We are sorry for any inconvenience!
The sledding hill and warming house at Tom O'Leary Golf Course are closed until further notice due to poor sledding conditions.
A section of Hay Creek Trail is closed for construction until further notice.
The Expressway underpass on the Sertoma Trail is closed.
Two segments of the Cottonwood Park trail, 2506 South 12th St., are closed until further notice due to construction of additional softball fields. 
Imagination Playground
Experience Imagination Playground and give your kids the opportunity to enjoy a completely new way to play! Children will be invited to experience Imagination Playground in a Box, a new concept that offers a changing array of elements that allow children to constantly reconfigure their environment and to design their own course of play. Giant foam blocks, moveable and buildable play pieces overflow with creative potential for children to play, dream, build and explore endless possibilities.
June – September
Saturdays • 10 am – 1pm
Kiwanis Park, 318 S. Washington St.
BisMarket
October – May
Tuesdays, Thursdays • 10 am – Noon
World War Memorial Building, 215 North 6th Street
Imagination Playground Room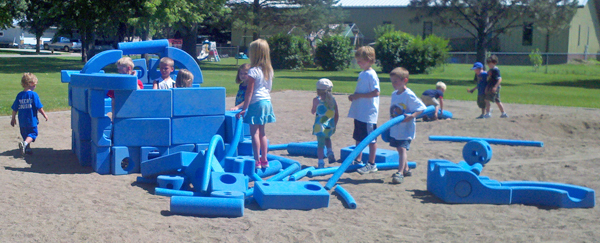 Winner, 2017 National Gold Medal Award for Excellence in the Field of Parks and Recreation