Toptracer Range
Located at Fore Seasons Center/Pebble Creek Golf Course, 2525 N. 19th St.
223-3600 or 221-3385
---
Play Like a Pro!
The Toptracer Range delivers the same ball-tracking technology that traces the shots of players on TV. The technology offers a fun, engaging, tech-driven experience that appeals to seasoned players, range rivals, friends, family members and even first-time golfers.
Toptracer Range Information
10 indoor driving bays at Fore Seasons Center, 2525 N. 19th St.
Rate per bay for up to four players

$15 for 30 minutes
$25 for 60 minutes

Reserve a Toptracer Range bay or call 223-3600 for assistance.
To check availability, refer to the Fore Seasons Center Schedule page.

Center Hours: Monday-Sunday: 9am-9pm

The indoor driving range closes 30 minutes prior to any scheduled event or facility rental.
---
A Real Game Changer
The Toptracer Range provides instant shot replays and statistical feedback on interactive game screens in your hitting bay, allowing you to make swing adjustments and immediately see the impact on your golf shot. Games and modes are suited for all ages and skill levels.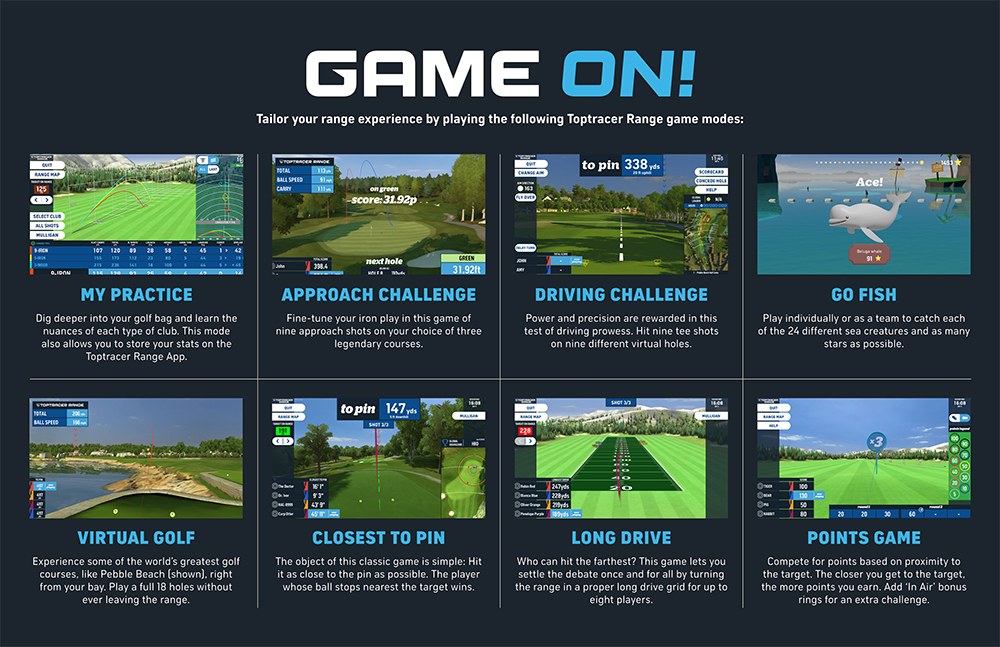 ---
Get the App
The Toptracer Range app takes the guesswork out of swing adjustments by providing instant, data-based shot feedback. Not only will you be able to store all shot data, you can also see how you rank against other players on the range's leaderboards.