Capital Ice Complex/Schaumberg Arena and Wachter Arena
Re-Opens Friday, May 1
The Capital Ice Complex re-opens on May 1 in accordance with North Dakota Governor Doug Burgum's Smart Restart protocols.
The facility is open for dry floor events at this time. Ice activities will resume later this summer.
1504 Wichita Drive, Bismarck ND 58504  • 701-712-8918
The Capital Ice Complex is complete, full of activities and a wonderful addition to Bismarck. The former Schaumberg Arena has a sister sheet of ice, Wachter Arena, and both are now under one roof in the Capital Ice Complex. The facility is home to youth hockey, figure skating and public ice skating. This expansion is due to the support of a generous business community and many, many individuals and families.
Public Indoor Ice Skating
Rules
Skate with the flow.
No racing or dodging other skaters.
No food on the ice.
No spins – both feet must be on the ice.
Be courteous to other skaters.
Always use caution – be aware of other skaters.
Rentals
Ice Rentals: $85/hour (limited availability)
Dry Floor: $40/hour
Must be reserved at least 24 hours in advance.
Reservations: call Dylan at 712-8918
---
Capital Ice Complex featuring Schaumberg Arena and Wachter Arena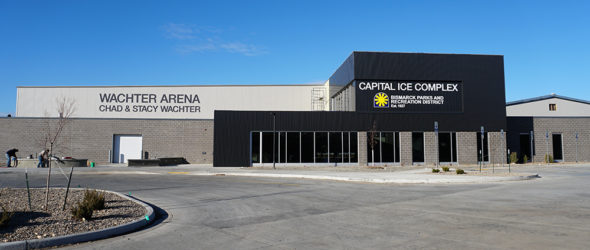 The "Building on Tradition" capital campaign raised just over $3.8 million for the campaign. Thank you to all donors for making this expansion possible. The Bismarck Hockey Boosters and the Bismarck Figure Skating Club made substantial donations to the project, as well as the Chad and Stacy Wachter family.
Community Partners in this Campaign: (link to their websites)
Winner, 2017 National Gold Medal Award for Excellence in the Field of Parks and Recreation