Alerts
Sunrise 4-5 Grade Basketball Practices Cancelled on Friday, December 21st.
The Sunrise 4th grade practice will be moved to Monday, December 17th from 4:30-5:30pm.  Sunrise 5th grade team will only practice on Monday this week.
A portion of the Pebble Creek Trail from 19th Street to Century Avenue has been detoured onto the Pebble Creek Golf Course cart path for the winter.
This detour will be in place until spring when winter conditions subside.
Playgrounds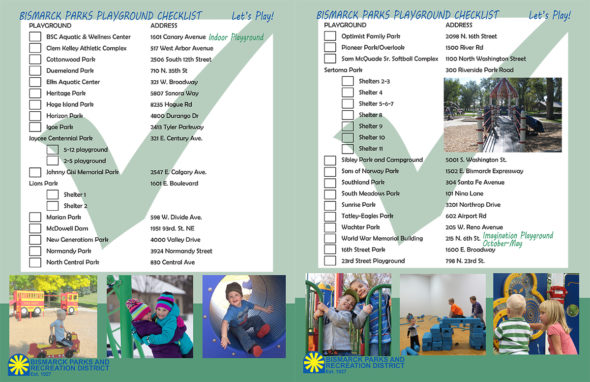 Playground Checklist – Updated for 2018
---
Bismarck Parks and Recreation District has 52 playgrounds in 63 parks. The playgrounds are unique, have themes (music, monkeys, wild west) and are accessible to all. BPRD's Matching Grant program helped nine schools update playgrounds since 2014, too. We're in the "Let's Play" business!
Six new playgrounds, two additions and four replacements since 2014 have increased access to active play. BPRD themed playgrounds are unique, inclusive and fully compliant. BPRD's Matching Grant program has helped six schools update playgrounds since 2014.
Here's some news about new and updated playgrounds in Bismarck:
New Playgrounds
Recent Playground Replacements
Playground Additions
School Playground Improvements with Matching Grants
Centennial Elementary
Northridge Elementary
Miller Elementary
Rita Murphy Elementary
Dorothy Moses Elementary
Solheim Elementary
Liberty Elementary
Northridge Elementary
Themed Playgrounds
16th Street Park: Train theme
Clem Kelly Athletic Complex: Spider and web
Heritage Park: Treehouse
Igoe Park: Fire truck and fire station
Lions Park, shelter 1: Castle and stagecoach
New Generations Park: Wild West theme
Normandy Park: Construction theme
Sertoma Park, shelters 2-3: Music ship
Sertoma Park, shelter 8: Monkey playground
Sertoma Park, shelter 9: Space ship and planet
Sunrise Park: Battle ship
Winner, 2017 National Gold Medal Award for Excellence in the Field of Parks and Recreation