Basketball, Girls' 4th & 5th Grade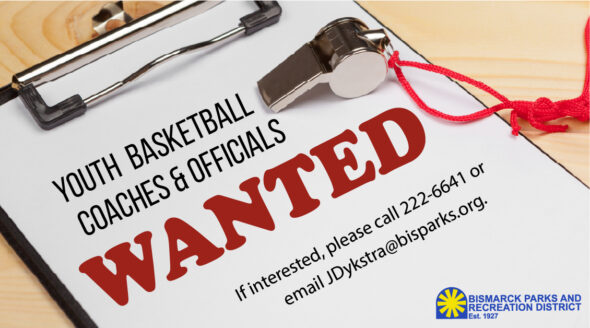 Girls' youth basketball is a recreational program that teaches the fundamentals, skills and sportsmanship of the game. These basics include passing, dribbling, shooting and teamwork. Participants will learn through drills, scrimmages and games. Our emphasis is on equal play time, and most of all, FUN! The 4th and 5th grade programs have season-ending jamborees.
League Dates
Girls' Grade 4: Aug. 28-Oct. 14; Jamboree: Oct. 13-14
Girls' Grade 5: Aug. 28-Oct. 28; Jamboree: Oct. 26 & 28
---
Days/Times for Most Schools
4th grade has one practice a week.
5th grade has two practices a week.
First week of practice is Monday, Tuesday, Thursday and/or Friday.
Due to gym availability, some schools may have different practice schedules. You will be notified through the school office and/or team coach.
Teams are formed after the first week of practice and a schedule is provided for the remainder of the season. Every attempt is made to split the teams as equally as possible when more than one team exists at any school.
---
Information
No informational meeting.
Practice & Game Schedules
---
Fees
Girls' Grade 4: $70/player-if received on or before Aug. 11
Girls' Grade 4: $80/player-if received Aug. 12 or later
Girls' Grade 5: $80/player-if received on or before Aug. 11
Girls' Grade 5: $90/player-if received Aug. 12 or later
Registration
Because 4th and 5th grade girls' basketball teams have been established, players now need to register at the BPRD office at 400 E. Front Ave. Online registration is no longer available.*
School
4th Grade Code
5th Grade Code
Centennial
25406
25408
Elk Ridge
25407
25512
Grimsrud
25557
25513
Highland Acres
25558
25514
Liberty
25559
25515
Lincoln
25560
25516
Martin Luther
25561
25517
Miller
25562
25518
Moses
25563
25519
Murphy
25564
25520
Myhre
25565
25521
Northridge
25566
25522
Pioneer
25567
25523
Prairie Rose
25568
25524
Roosevelt
25569
25525
Shiloh
25571
25526
Silver Ranch
25574
25527
Solheim
25576
25528
Sunrise
25579
25529
Will-Moore
25580
25530
* Light of Christ Schools (LOC) participants will need to contact LOC to register for 4th and 5th grade basketball.
All youth basketball programs sponsored by