Alerts
Squirts and Mites (8:30am and 10am) Baseball/Softball has been cancelled for today, July 18 due to poor field conditions.
Bill Mills Trails is closed due to high river elevations.
The Washington Trail from 57th Ave NW to Restful Dr. is temporarily closed for construction.
Two segments of the Cottonwood Park trail, 2506 South 12th St., are closed until further notice due to construction of additional softball fields. 
July Celebration – Events all Month
Date:
July 1st to July 31st
||
Events
Come out and play with Bismarck Parks and Recreation during July Celebration, a whole lot of fun to celebrate National Parks and Recreation Month. There's so much to do, see and experience. Make a commitment to be outside to be inspired and enjoy all that summer has to offer. Let's Play!
Click the image to view a printable PDF of the calendar.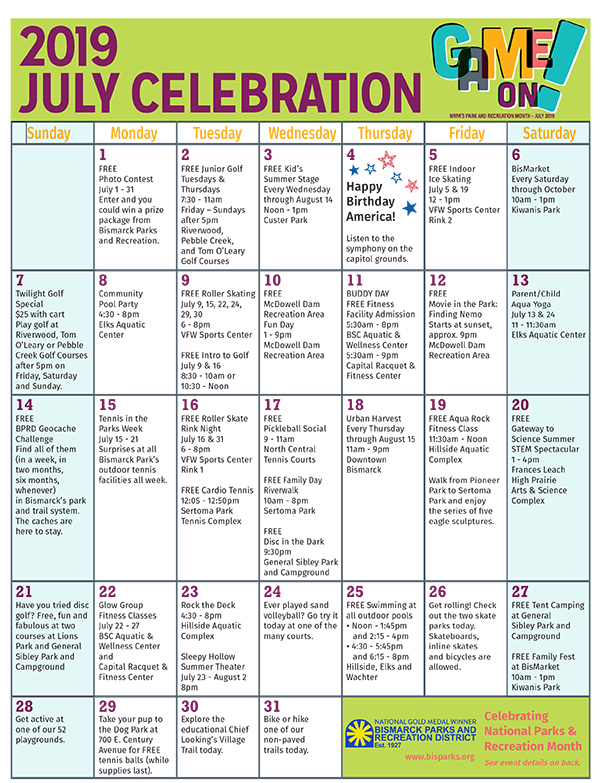 ---
Monday, July 1 – 31 • FREE Photo Contest
Send us your pictures of summer fun and you could win a prize package from Bismarck Parks and Recreation. Plus – your photo may just show up in one of our publications or online. www.bisparks.org/july-celebration-photo-contest
---
FREE Junior Golf
Tuesdays & Thursdays from 7:30 – 11am (thru August 31)
Friday – Sundays after 5pm (thru Labor Day)
7:30 – 11am
Juniors ages 17 & under must tee off from the forward tees on free junior golf mornings. Call courses for tee time. Tuesday mornings and Friday evenings at Riverwood, 222-6462. Tuesday mornings and Sunday evenings at Pebble Creek, 223-3600. Thursdays mornings and Saturday evenings at Tom O'Leary, 222-6531.
---
Wednesday, July 3 – August 14 • FREE Kid's Summer Stage
Noon – 1pm
Custer Park, 320 E. Custer Park St.
Kids of all ages love this free interactive hour of music and song. Bring a blanket or your own chair. Pack a lunch. A Dakota West Arts Council event showcasing local talent and kids!
---
Friday, July 5 & 19 • FREE Indoor Ice Skating
12 – 1pm
VFW Sports Center – Rink 2, 1200 N Washington St
Slip on those ice skates during the summer and enjoy indoor ice skating. Sorry no skate rentals available.
---
Saturdays • BisMarket
10 am – 1pm
Kiwanis Park, 318 S. Washington St.
BisMarket is your neighborhood farmer's market. High quality, locally produced or made products, along with activities for children, entertainment and educational topics presented throughout the season. www.bismarket.com
---
Friday – Sunday • Summer Twilight Golf Special
Tee Times after 5pm
Special Twilight Rate at Tom O'Leary, Riverwood, and Pebble Creek Golf Courses through Labor Day. For $25, you get a green fee and a cart rental for as many holes as you wish to play until 30 minutes before sunset.
---
July 9, 15, 22, 24, 29, 30 • FREE Roller Skating
6 – 8pm
VFW Sports Center – Rink 1, 1200 N Washington St
Grab your roller skates or roller blades and enjoy skating at the rink. Sorry no roller skate rentals available.
---
Sunday, July 14 • FREE BPRD Geocache Challenge
It's like searching for treasure by using Global Positioning System (GPS) coordinates that are posted at www.geocaching.com. It's free. It's fun. Find all 12 and turn your passport in at the park district for a prize. Passports available online or at the BPRD Administration office, 400 E. Front Ave.
---
Monday, July 15 – 21 • Tennis in the Parks Week
Special surprises at all Bismarck Park's outdoor tennis facilities all week long. Sponsored by Capital Racquet & Fitness Center.
---
Tuesday, July 16 & Wednesday, July 31 • FREE Roller Skate Rink Nights
6 – 8pm
VFW Sports Center – Rink 1, 1200 N Washington St
This event brings back the nostalgic roller skating rink experience. Music, prizes and skating games! Grab some friends and bring your roller skates or blades to this free event. Co-sponsored by the BisMan Bombshellz Roller Derby League.
---
Wednesday, July 17 • FREE Family Day Riverwalk
10am – 8pm
Sertoma Park, 300 Riverside Park Road
A free outdoor event along Bismarck's beautiful Missouri River. Entertainment, food vendors, kids activities. Join in the festivities for families. More details at facebook.com/FamilyDayRiverwalk1.
---
Wednesday, July 17 • FREE Disc in the Dark
9:30pm
General Sibley Park and Campground, 5001 S. Washington St.
Enjoy a 9-hole glow course filled with colored lights and glowing baskets. Bring a glow-in-the-dark disc or add free LED lights to your disc (while supplies last). No registration needed.
---
Thursday, July 18 – August 15 • Urban Harvest
11am – 9pm
Urban Harvest is open in Downtown Bismarck on the corner of 4th and Broadway every Thursday from July 11 through August 15. The market includes vendors selling fresh produce, arts and crafts and ready-to-eat foods. Urban Harvest also includes entertainment. www.bismarckurbanharvest.org
---
Friday, July 19 • FREE Aqua Rock Fitness Class
11:30am – Noon
Hillside Aquatic Complex, 1719 E. Boulevard Ave.
This high energy, low impact group fitness class is for everyone. Burn calories while moving to classic rock music at the outdoor pool. Class is first come, first served basis.
---
Saturday, July 20 • FREE Gateway to Science STEM Spectacular
1 – 4pm
Frances Leach High Prairie Arts & Science Complex, 1810 Schafer St.
A STEM (science, technology, engineering and math) free event with hands-on activities for all ages. Check gatewaytoscience.org for more event details. www.gatewaytoscience.org
---
Monday, July 22 – 27 • Glow Group Fitness Classes
BSC Aquatic & Wellness Center, 1601 Canary Ave
Capital Racquet & Fitness Center, 3200 N. 10th St.
Stretch, lift or move under the crazy glow of blacklights. Members free, non-members pay daily admission rate. For complete group fitness schedule, visit www.bisparks.org/group-fitness-classes
---
Tuesday, July 23 • Rock the Deck
4:30 – 8pm
Hillside Aquatic Complex, 1719 E. Boulevard Ave.
Rock the Deck is a pool party for middle school students. Come enjoy the pool on the night set aside just for incoming 6th, 7th, and 8th graders. Bring a pal to enjoy open swim, music from Y93, prizes, and a departing treat. Featuring Aqua Rock from 5 – 5:45pm. Regular admission rates apply.
---
Tuesday, July 23 – August 2 • Sleepy Hollow Summer Theater
8pm
Newsies the Musical: July 9 – 18
Mamma Mia!: July 23 – August 2
Sleepy Hollow Park, 2899 E. Divide Ave.
It's a summer tradition! Mark your calendars and enjoy not one, but two choices for your musical pleasure. An evening under the stars, watching the stars. www.shst.org
---
Wednesday, July 24 • Parent/Child Aqua Yoga
11 – 11:30am
Elks Aquatic Center, 321 W. Broadway Ave.
Come enjoy Basic Yoga poses in the zero depth water with your child. Class fee: $7 per parent/child unit. Additional adult or child $3 (3 children per adult). Click here to register online.
---
Thursday, July 25 • FREE swimming at the outdoor pools
• Noon – 1:45pm and 2:15 – 4pm
• 4:30 – 5:45pm and 6:15 – 8pm
Enjoy some swim time at Hillside Aquatic Complex (includes waterslide), Elks Aquatic Center and Wachter Aquatic Complex for FREE.
---
Saturday, July 27 • FREE Tent Camping
General Sibley Park and Campground, 5001 S. Washington St.
You'll enjoy camping, trails, playgrounds, picnic shelters, a disc golf course and river access. No reservations are needed, simply register at the office upon arrival. For additional information, please call 222-1844.
---
Saturday, July 27 • FREE Family Fest at BisMarket
10am – 1pm
Kiwanis Park, 318 S. Washington St.
Family Fest, hosted by Bismarck Parks and Recreation District, is held in conjunction with BisMarket. Kids can enjoy free carnival games while parents enjoy the BisMarket vendors. Come play, eat and shop at this free event.
Winner, 2017 National Gold Medal Award for Excellence in the Field of Parks and Recreation