Ice Skating & Warming Houses
---
Public Indoor Ice Skating
There will be skate monitors on duty during Sunday public skating. We cannot be responsible for accidents, so please be careful. No pucks or sticks. Schedule below subject to change.
Capital Ice Complex
1504 Wichita Dr. • 712-8918
Schaumberg Arena

Oct. 21-March 16 – Saturdays: 3-5pm

Wachter Arena

Sept. 3-March 17- Sundays: 6-8pm

Skating fee: $2/individual or $5/family.
Skate rental: $3 (sizes 9 junior to 15 adult).
Cash or check only; no ATM onsite.
VFW Sports Center
1200 N. Washington St. • 222-6588 or 221-6815
Rink 1: Sept. 5-March 28 – Tuesdays, Wednesdays and Thursdays: 12-1:15pm
Rink 2: Nov. 5-March 10 – Sundays: 3-5pm
Skating Fee: $2/Individual; $5/family.
No skate rentals.
Cash/check only.
Rules
Skate with the flow.
No racing or dodging other skaters.
No food on the ice.
No spins – both feet must be on the ice.
Be courteous to other skaters.
Always use caution – be aware of other skaters.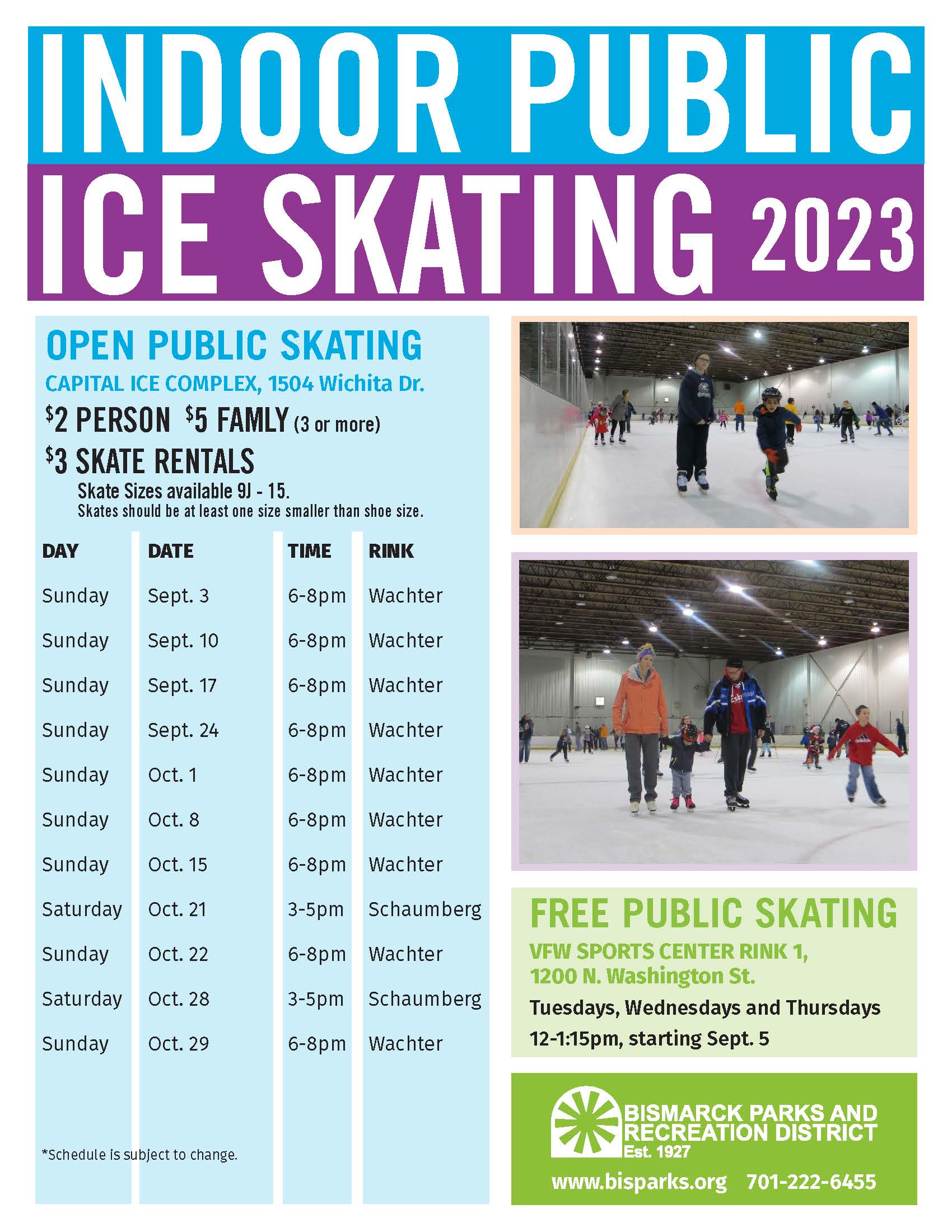 ---
Outdoor Ice Skating
March 6, 2023: All outdoor rinks and warming houses are closed for the season.
Outdoor Rink Warming House Hours

Monday-Friday: 3:30-9pm
Saturday-Sunday and Public School Holidays: 1-9pm
Christmas Eve: 11am-3pm & Christmas Day: CLOSED
Warming Houses are located at the following parks:
Bismarck Municipal Ballpark
303 W. Front Ave., 222-6636
One hockey rink
Jaycee Centennial Park
321 E. Century Ave., 222-6632
One hockey rink and one pleasure rink
Lions Park
1001 N. 17th St., 751-1827
One hockey rink and one pleasure rink
New Generations Park
1021 Mustang Dr., 751-0690
One hockey rink and one pleasure rink
North Central Park
830 Central Ave., 221-6875
One hockey rink and one pleasure rink
Solheim School/VFW Post #1326 Family Recreational Park
325 Munich Dr., 221-3499
One hockey rink and one pleasure rink
Tatley-Eagles Park
602 Airport Rd., 222-6634
One hockey rink and one pleasure rink
*No skate rentals available at outdoor rinks.
---
Outdoor Hockey Rink Practice Schedule
To schedule hockey practice on outdoor ice:
Team manager or coach can call Park Operations at 701-222-6464.  They must provide the following:

Team name
Contact name and phone number
Rink location
Date and time

Requests for practices must be made 48 hours in advance.
Practices may be scheduled at:

Any rink except Jaycee or Solheim
Practices at New Generations will only be allowed on Tuesday and Thursday from 6-7pm.
One practice per day per rink is allowed.
Practice time is limited to 1 hour.