Alerts
The women's hot tub at Capital Racquet & Fitness Center will be closed for maintenance until further notice. We are sorry for any inconvenience!
The sledding hill and warming house at Tom O'Leary Golf Course are closed until further notice due to poor sledding conditions.
A section of Hay Creek Trail is closed for construction until further notice.
The Expressway underpass on the Sertoma Trail is closed.
Two segments of the Cottonwood Park trail, 2506 South 12th St., are closed until further notice due to construction of additional softball fields. 
Burleigh County Parks
The Burleigh County commission approached Bismarck Parks and Recreation District to manage and operate components of the county park system.  An agreement was signed in 2015, and includes language regarding a master plan – a roadmap – to deliver increased park and recreational opportunities to Bismarck/Burleigh County residents and visitors.  See the map, below for the names/locations of these parks and boat ramps. If you have any questions, don't hesitate to contact Bismarck Parks and Recreation District at bisparks@bisparks.org.
General Sibley & Eagles Park
Please click here for more information on General Sibley Park & Campground
Please click here for more information on Eagles Park & Camground

McDowell Dam Recreation Area
Please click here for more information on McDowell Dam Recreation Area
Burleigh County Camp Grounds
Please click here for more information Burleigh County Camping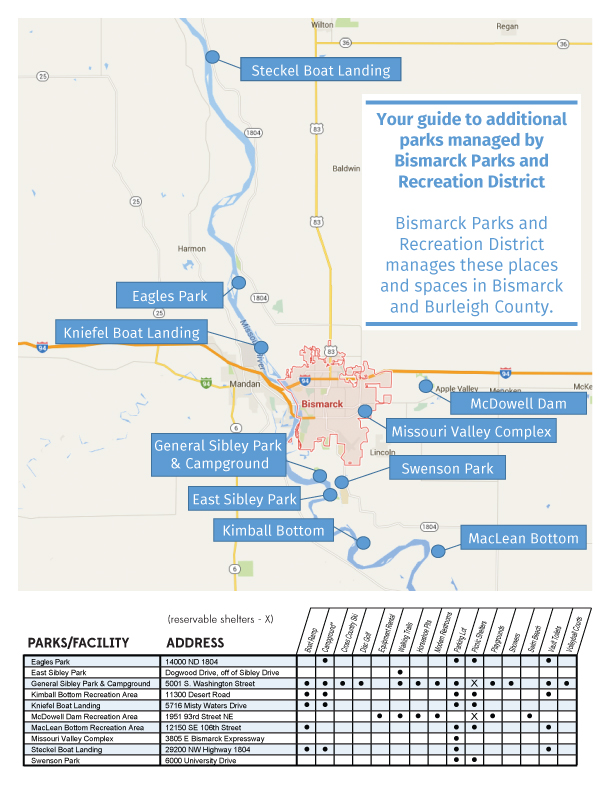 Winner, 2017 National Gold Medal Award for Excellence in the Field of Parks and Recreation