Alerts
A section of Hay Creek Trail is closed for construction until further notice.
The Expressway underpass on the Sertoma Trail is closed.
Two segments of the Cottonwood Park trail, 2506 South 12th St., are closed until further notice due to construction of additional softball fields. 
BSC Aquatic & Wellness Center
1601 Canary Avenue, Bismarck, ND 58503  •  701-751-4266
The BSC Aquatic & Wellness Center, located on the Bismarck State College Campus, 50-meter competition pool, diving, recreation and lap pools, a wellness center with strength and cardio equipment and group fitness classes. The facility also has Turtle Beach playground and meeting rooms.
September 1 – May 31
Mon.-Thurs.: 5:30am – 10pm
Friday: 5:30am – 8pm
Saturday: 7am – 7pm
Sunday: Noon – 7pm
June 1 – August 31
Mon.-Thurs.: 5:30am – 8pm
Friday: 5:30am – 7pm
Saturday: 7am – 2pm
Sunday: CLOSED
Pool Hours and Information
---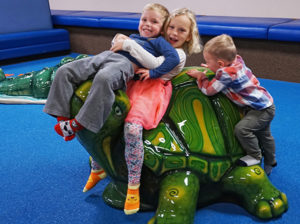 Turtle Beach Indoor Playground
Turtle Beach is a self-contained area with natural looking climbing, tunnel and sliding elements. It also features a poured-in-place rubber surfacing to mimic water and sand! Have fun watching your baby or young child play with the turtles, crocodiles, sand castle and rowboat! Members can use the playground for free, non-members $1 per child.
---
Other Programs Offered