BSC Aquatic & Wellness Center
1601 Canary Avenue, Bismarck, ND 58503  •  701-751-4266
Please Mask Up
Capital Racquet & Fitness Center and the BSC Aquatic & Wellness Center are open and are following ND Governor Burgum's and the ND Department of Health guidelines and Executive Orders to keep our community and our state healthy. Face coverings are encouraged. We want to continue to see you. Thanks for your support and understanding.
The BSC Aquatic & Wellness Center, located on the Bismarck State College Campus, 50-meter competition pool, diving, recreation and lap pools, a wellness center with strength and cardio equipment and group fitness classes. The facility also has Turtle Beach playground and meeting rooms.
September 1 – May 31
Monday-Thursday: 5:30am – 10pm
Friday: 5:30am – 8pm
Saturday: 7am – 7pm
Sunday: Noon – 7pm
June 1 – August 31
Monday-Thursday: 5:30am – 8pm
Friday: 5:30am – 7pm
Saturday: 7am – 2pm
Sunday: CLOSED
Pool Hours and Information
---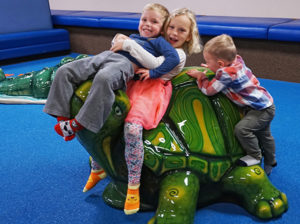 Turtle Beach Indoor Playground
Turtle Beach is a self-contained area with natural looking climbing, tunnel and sliding elements. It also features a poured-in-place rubber surfacing to mimic water and sand! Have fun watching your baby or young child play with the turtles, crocodiles, sand castle and rowboat! Members can use the playground for free, non-members $1 per child.
---
Other Programs Offered