Private Swim Lessons
---
Private lessons consist of four 30-minute sessions; the fee is $80. Choose four private lesson dates and times that work for your schedule.
Private swim lessons and small group private lessons are offered based on instructor availability.
If no instructors appear after selecting the register button below, lessons are full or no instructors are available at this time. Openings will be posted on our Facebook page. Please continue to check back.
If you are using a mobile device (phone or tablet) to register for private lessons, you must select "full site" when you log in.
Please read these helpful hints so that you quickly swim through this process:
Click on the above "Register" button to log into your account. If you do not have an account, please create one.
Click "Enroll Now" next to the instructor you want. If you don't have a preference for an instructor, choose an instructor with the dates and times that work for your schedule. To view a brief description of dates and times available, click on the blue link titled "Private Lessons with …."
After selecting "Enroll Now" and adding the participant name, you will see a page similar to the one displayed below. The highlighted areas require you to enter information to search for available dates and times.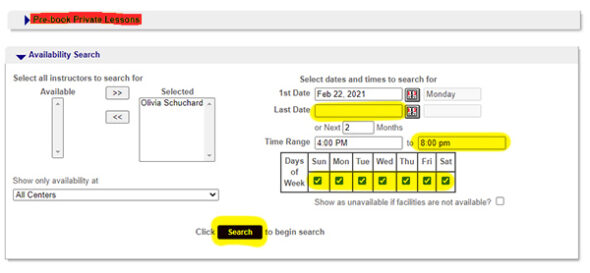 Pre-book Private Lessons: Please do not select anything in this section.
Last Date: We suggest the Last Date should be at least one month but not more than 60 days from the 1st Date.
Time Range: Please enter an end time to ensure all available openings are displayed.
Days of the Week: Click on which days of the week you're available. We strongly suggest you click on every day. We know that's not what you may be interested in, but it will show you all of the days and times the instructor is available.
Search: Hit the search button to view the instructor's availability.
Select your four dates and times. The red x's indicate those spots have already been reserved.
After choosing your four dates and times, click "Add to List." You'll be able to review your schedule and make any corrections. If a date is wrong, you can remove it and Search again.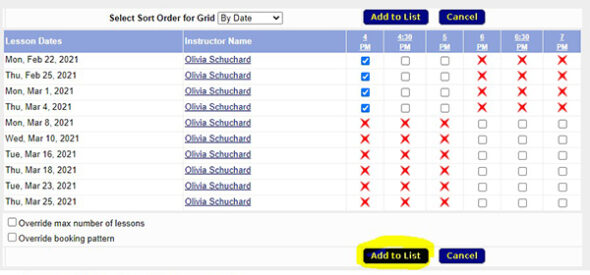 When you're finished, click "Continue" to confirm your dates and times and finalize your purchase.
---
If you have any questions, please call Jahna at 701-751-4270.
Cancellation Policy
*If you are unable to keep an appointment for any reason and unable to give at least 12 hours' notice of cancellation, you will forfeit your session. The session will not be made up unless you give at least 12 hours' notice of cancellation. Please be on time for your session. If you are late, the session will finish at the scheduled time.
---
Small Group Private Lessons
If you want to do a small group private lesson – two or more participants at the same time with the same instructor – please register one child, then call Jahna at 701-751-4270 to get the discounted rate and to register additional children. Children must be of similar age and skill level to be in lesson together.
Small group lessons (two or more participants at the same time with the same instructor) are $70 per person.