Alerts
The ramp in the program pool at BSC AWC will be unavailable from Thursday, Sept. 21 at Noon until sometime on Saturday, Sept. 23.
Please advise staff should you need to use the lift for pool entry and exit.
Portions of Wachter Trail Closed
MDU is performing utility updates along University Ave. between the street and the Wachter shared use path (along the drainage channel), from Wachter Drive to Bismarck Expressway. The trail in this area is closed until these updates are completed. Trail …
Read More
The Pebble Creek Recreational Trail is closed from 19th St. to the Century Ave. bridge.
Wachter Park will be closed until Fall of 2017. Wachter Pool will be open for the summer.
Due to the construction of the new rink at Schaumberg, the current Wachter Park is closed and will be replaced to make way for the new building and parking lot. Don't worry a brand NEW Wachter park will be coming in …
Read More
Playgrounds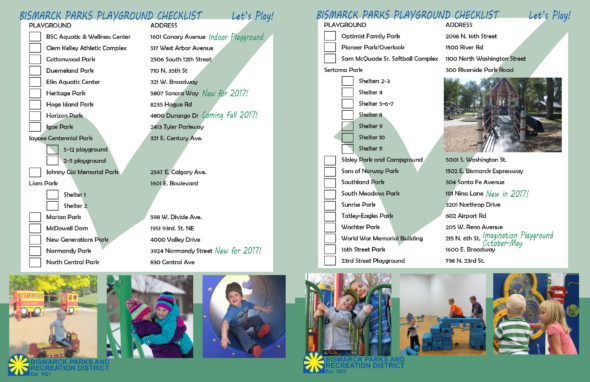 Bismarck Parks and Recreation District has 50 playgrounds in 62 parks. The playgrounds are unique, have themes (music, monkeys, wild west) and are accessible to all. BPRD's Matching Grant program helped six schools update playgrounds since 2014, too. We're in the "Let's Play" business!
Six new playgrounds, two additions and four replacements since 2014 have increased access to active play. BPRD themed playgrounds are unique, inclusive and fully compliant. BPRD's Matching Grant program has helped six schools update playgrounds since 2014.
Here's some news about new and updated playgrounds in Bismarck:
Brand New Playgrounds
Playground Replacements
New Playground Additions
School Playground Improvements with Matching Grants
Centennial Elementary – 2017
Northridge Elementary – 2017
Miller Elementary
Rita Murphy Elementary
Dorothy Moses Elementary
Solheim Elementary
Liberty Elementary
Northridge Elementary
COMING SOON!
Themed Playgrounds
Sertoma Park, shelters 2-3: Music ship
Sertoma Park, shelter 8: Monkey playground
Sertoma Park, shelter 9: Space ship and planet
Clem Kelly Athletic Complex: Spider and web
Igoe Park: Fire truck and fire station
New Generations Park: Wild West theme
16th Street Park: Train theme
Sunrise Park: Battle ship
Normandy Park: Construction theme
Lions Park, shelter 1: Castle and stagecoach