mon08feb(feb 8)1:00 amfri12(feb 12)5:00 pmFlurry Fest Treasure Hunt1:00 am - 5:00 pm (12)
Event Details
The Treasure is Found After Two Clues
Co-workers Denise Keller and Nicole Bruce teamed up and found the Flurry Fest Treasure today, Tuesday, February 9, in Kiwanis Park. The duo found the treasure while on their lunch hour from Southridge Chiropractic Clinic.
Denise and her family have been long-time, serious Flurry Fest Treasure Hunt seekers. Over the years, they have collected a trove of treasure hunting reference material, including photos and notes from all of Bismarck's parks. But it was newcomer Nicole who was the lucky charm and helped seek out the treasure on her first time hunting.
Denise and Nicole took a quick trip to Sertoma Park before finding their way to Kiwanis Park. The treasure was hidden near the park's restroom. The successful treasure finders have won prizes from Bismarck Parks and Recreation District, including golf, swimming, and fitness passes. Congratulations, Denise and Nicole!
Flurry Fest events continue all month long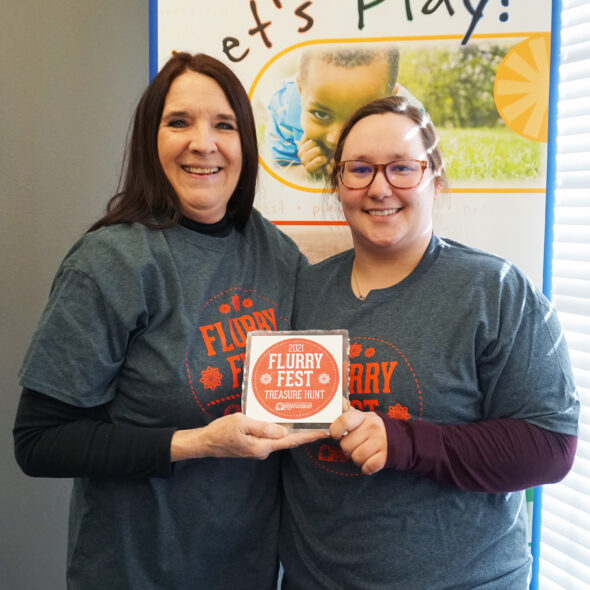 ---
Clue #2 – Tuesday, Feb. 9
Will you be my Valentine?
Oh, that's not quite right, but who knows?
Please bring me a gift, there are so many choices.
Hey, there's a tower of light that glows.
Clue #1 – Monday, Feb. 8
Hello and welcome, treasure seekers.
The time to find me is here.
From my hiding place, I'm near slides and climbers.
Rock on, or rest on the bench that's near.
---
Sharpen your treasure-seeking skills. You'll receive one Treasure Hunt clue a day for five days to lead you to a treasure of park district prizes.
The Treasure Hunt treasure will consist of:
One 2021 Green Fee Pass, which includes 12 coupons good for 18 rounds of golf at Tom O'Leary Golf Course
One coupon booklet for 12 large buckets of golf balls at the Fore Seasons Center
One coupon booklet with 12 outdoor pool passes, including the Hillside Aquatic Complex waterslide
One six month adult membership for Capital Racquet & Fitness Center and the BSC Aquatic & Wellness Center
One $25 gift certificate to BPRD, good for any program, facility or shelter reservation
---
2021 Flurry Fest Treasure Hunt Rules
One Treasure Hunt clue will be on the Bismarck Parks and Recreation District (BPRD) website and on the BPRD Facebook page each day for five days, starting Monday, February 8 through Friday, February 12 at 8:15 am CDT. The clue will also be available by calling the Treasure Hunt Hotline at 222-6479. A new clue will be on the website, Facebook page and on the hotline for five days or until the treasure is found. The Treasure consists of a 6 inch by 6 inch acrylic plaque with the inscription "2021 Flurry Fest Treasure Hunt" on it. Updates of whether or not the treasure has been found before Friday, February 8 will also be on the website, Facebook and on the hotline.
If the Treasure is not found and claimed by 4 pm Friday, February 12, 2021, BPRD reserves the right to terminate the hunt and the treasure will not be awarded.
The Treasure is hidden above ground on public land. Please SEARCH but DON'T DESTROY. No digging below ground or destruction of property is necessary to find the treasure. BPRD reserves the right to discontinue the hunt at any time if public property is destroyed.
All contestants must be age 18 to participate in this contest.
The finder of the Treasure must claim the prize by presenting the Treasure at the BPRD administrative office, 400 E. Front Avenue, during normal business hours, 7:30 am to 5 pm CDT, Monday through Friday.
Treasure Hunt winners who have won within the last three years are not eligible to win. This includes members of their immediate and extended families – nieces, in-laws, cousins, etc. BPRD employees and their immediate families are not eligible to participate.
At the conclusion of the Treasure Hunt, BPRD will announce and publish the location of the found Treasure and the winner's name. BPRD reserves the right to use the winner's name and a photo in promotional materials. BPRD reserves the right to keep the explanation of the clues a Flurry Fest mystery.
No purchase necessary to win. All contest rules and decisions are final.
more
Time

8 (Monday) 1:00 am - 12 (Friday) 5:00 pm