Alerts
Moses 4th & 5th Grade Basketball Practices Cancelled Tonight Thursday, December 14.
Due to music program.  Moses Practices are rescheduled for Friday, December 15: 5th grade at 4-5pm and 4th grade at 5-6pm.
Indoor public skating Saturday, Dec. 16 at the Capital Ice Complex has been cancelled.
Due to a hockey tournament.
The Pebble Creek Recreational Trail is closed from 19th St. to the Century Ave. bridge.
Wachter Park will be closed until Fall of 2017.
Due to the construction of the new rink at Schaumberg, the current Wachter Park is closed and will be replaced to make way for the new building and parking lot. Don't worry a brand NEW Wachter park will be coming in …
Read More
Dog Park
Please park in the parking lot west of Century High School and enjoy three dog park fields. Big Paws Field is for dogs over 30 pounds. Wiggly Field is for dogs less than 30 pounds and Fetch Field is for all dogs and owners interested in a training and obedience area. The fields are gated and bags are provided for clean-up. Dogs must be leashed while in the central corridor of the Dog Park. Bismarck City Ordinance 3-01-01, Section Eight, declares the remainder of the Bark Park to be a leash-free area. See the dog park rules below – They are also posted on site at the corner of N. 4th St. and E. Century Ave.
Dog park daily hours: 5 a.m. – 11 p.m.
City and Park Dog Ordinances (PDF Download)
These guidelines will help to ensure that Century Bark Park stays clean and safe.
Big Paws Field, for dogs over 30 pounds
Wiggly Field, for dogs 30 pounds and under
Fetch Field, for all dogs (training and obedience area)
Dogs:
Must be licensed. License tag must be attached to and visible on dog's collar.
Must be leashed while in parking lot and in central corridor. Bismarck City Ordinance 3-01-01, Section 8 declares the remainder of the dog park to be a leash-free area.
No digging.
No female dogs "in heat."
Must not be aggressive toward other dogs or people.
Must be over 30 lbs to use Big Paws Field.
Must be 30 lbs or less to use Wiggly Field.
Handlers:
No food or treats in the fields.
Stay in the field with your dog(s).
Bismarck city ordinance 3-03-05 says handlers must pick up and dispose of their dog's waste.
No more than two dogs per handler at any time.
You may be held liable for any damages or injury caused by you or your dog.
Children:
No children under 11 years of age on any field. Children under 11 may be in the central corridor if accompanied by an adult at all times.
All People:
Keep all gates closed.
No smoking.
No alcohol.
No bicycles, skateboards, or motorized vehicles allowed inside the fence.
Use Bark Park at your own risk. The Bismarck Parks & Recreation District is not liable for any damages or injury occurring in Bark Park.
Enforcement:
Bark Park is subject to patrol and enforcement of rules by Bismarck Police,
Animal Control Officers and employees of Bismarck Parks & Recreation District.
In case of emergency call 911
For police/animal control assistance, please call 223-1212.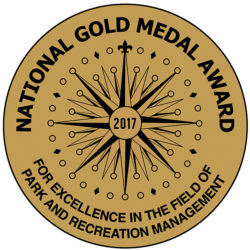 Winner, 2017 National Gold Medal Award for Excellence in the Field of Parks and Recreation