Alerts
The west Sertoma Trail from the Expressway underpass to shelter #10 is closed due to increased water level.
Due to the increased water levels, Keelboat and Fox Island Boat Ramp is closed.
Bill Mills Trails is closed due to high river elevations.
T-docks at Kniefel Boat Landing and Fox Island have been removed, due to high river levels.
Imagination Playground
Experience Imagination Playground and give your kids the opportunity to enjoy a completely new way to play! Children will be invited to experience Imagination Playground in a Box, a new concept that offers a changing array of elements that allow children to constantly reconfigure their environment and to design their own course of play. Giant foam blocks, moveable and buildable play pieces overflow with creative potential for children to play, dream, build and explore endless possibilities.
June – September
Saturdays • 10 am – 1pm
Kiwanis Park, 318 S. Washington St.
BisMarket
October – May
Tuesdays, Thursdays • 10 am – Noon
World War Memorial Building, 215 North 6th Street
Imagination Playground Room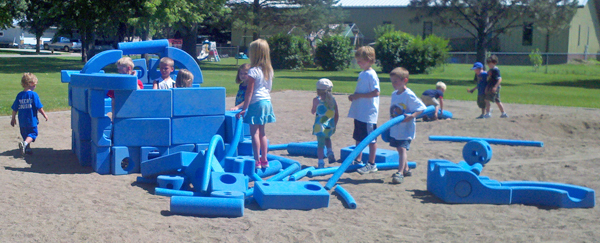 Winner, 2017 National Gold Medal Award for Excellence in the Field of Parks and Recreation