Alerts
The ramp in the program pool at BSC AWC will be unavailable from Thursday, Sept. 21 at Noon until sometime on Saturday, Sept. 23.
Please advise staff should you need to use the lift for pool entry and exit.
Portions of Wachter Trail Closed
MDU is performing utility updates along University Ave. between the street and the Wachter shared use path (along the drainage channel), from Wachter Drive to Bismarck Expressway. The trail in this area is closed until these updates are completed. Trail …
Read More
The Pebble Creek Recreational Trail is closed from 19th St. to the Century Ave. bridge.
Wachter Park will be closed until Fall of 2017. Wachter Pool will be open for the summer.
Due to the construction of the new rink at Schaumberg, the current Wachter Park is closed and will be replaced to make way for the new building and parking lot. Don't worry a brand NEW Wachter park will be coming in …
Read More
Disc Golf Courses
The Bismarck Parks and Recreation District maintains an 18-hole disc golf course within Lions Park, 1601 E. Boulevard. There's also a 24-hole disc golf course within General Sibley Park, 5001 S Washington St.
Click the images to view a printable PDF of the disc golf maps.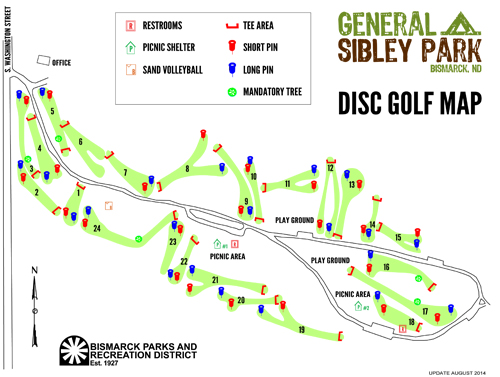 ---