Alerts
BSC AWC Aqua Zumba Fitness Class has been cancelled this Saturday, Feb. 24 from 9-9:45am, due to the swim meet.
All pools are closed at BSC Aquatic & Wellness Center on Saturday, Feb. 24.
Due to Swim Meet.
The indoor track at Capital Racuqet & Fitness Center will be closed February 17, 23 & 24.
Due to tennis tournaments.
A New Park and a New Playground
Bismarck Parks and Recreation District will officially dedicate a new park and open a renovated playground, both on Tuesday, May 23. The public is invited to attend both events.
Tuesday, May 23 at 10:30 am
South Meadows Park, 101 Nina Lane, was created and built using the City of Bismarck's Neighborhood Parks and Open Space Policy. This policy provides for park and green spaces within new developments. South Meadows is the first park to be created using this policy. The developers for this park are Chad and Stacy Wachter.
South Meadows Park includes a playground, a loop trail, an open play space, basketball courts and parking lot. This park is located on S. Washington St, just south of Burleigh Ave. in south Bismarck.
Tuesday, May 23 at 1:30 pm
Kiwanis Park, 318 S. Washington St., will officially open a renovated Jack Vantine playground in the park. The playground, designed for 5-12-year olds, features a new structure with slides, climbing area, shade canopies, play panels, ramps and an accessible merry-go-round.
The playground was made possible through funding from the Kiwanis Club, a matching grant from Bismarck Parks and Recreation District, a grant from the Garrison Conservancy District and a donation from Basin Electric Power Cooperative.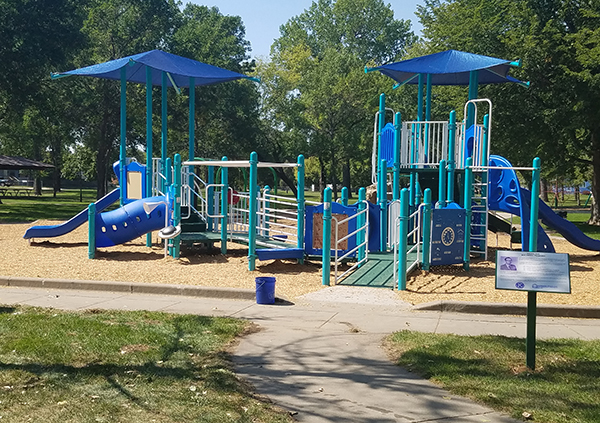 Winner, 2017 National Gold Medal Award for Excellence in the Field of Parks and Recreation