Clairmont Family Conservation Park
Development of the Clairmont Family Conservation Park is a partnership between Bismarck Parks and Recreation District (BPRD) and Ducks Unlimited (DU). The 117-acre park is bordered on the west by Clairmont Road and on the south by Burnt Boat Road.
DU acquired the land through their work with the William Clairmont Family and other supporters of the nature-based park. The parkland, currently owned by DU, will be donated to BPRD for public use and enjoyment.
As part of the park's development, DU is working on wetland and prairie restoration areas, which will provide the opportunity to educate people, through interpretive signage, about the prairie ecosystem and the importance of natural resources to community health.
Other elements of the draft comprehensive master plan being developed by BPRD include approximately 10 acres of reforestation area, retention of many of the existing natural surface trails along with the addition of more trails, two paved shared use paths for accessibility, and several picnic shelters and natural playgrounds. At the southeast corner of the property off Golf Drive, there will be a parking lot and four-season community building with restrooms. The Sheila Schafer Junior Links will be relocated from the Tom O'Leary Golf Course to this corner of the park due to the expansion of the VFW Sports Center. The community building will serve multiple purposes, including the opportunity to offer cross country ski rentals during the winter months. The junior links encompass about 7 acres of the 117-acre park.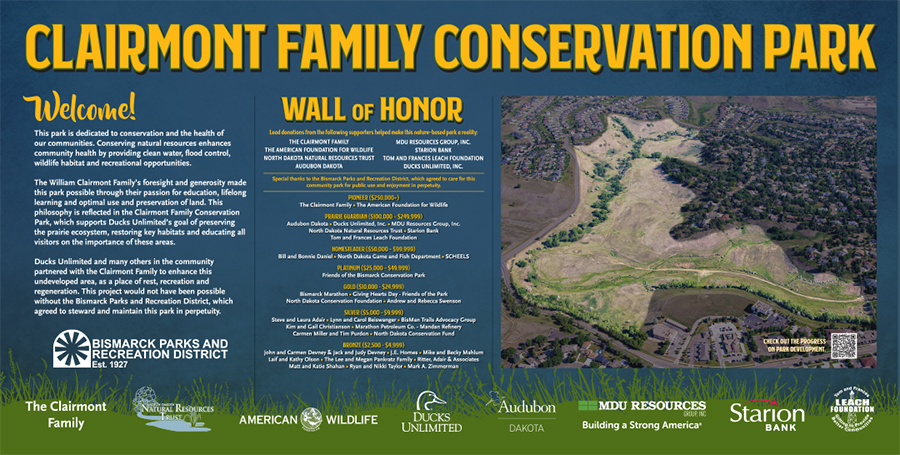 Park Background
This park is dedicated to conservation and the health of our communities. Conserving natural resources enhances community health by providing clean water, flood control, wildlife habitat and recreational opportunities.
The William Clairmont Family's foresight and generosity made this park possible through their passion for education, lifelong learning and optimal use and preservation of land. This philosophy is reflected in the Clairmont Family Conservation Park, which supports Ducks Unlimited's goal of preserving the prairie ecosystem, restoring key habitats and educating all visitors on the importance of these areas.
Ducks Unlimited and many others in the community partnered with the Clairmont Family to enhance this undeveloped area, as a place of rest, recreation and regeneration. This project would not have been possible without the Bismarck Parks and Recreation District, which agreed to steward and maintain this park in perpetuity.