Alerts
BSC AWC Aqua Zumba Fitness Class has been cancelled this Saturday, Feb. 24 from 9-9:45am, due to the swim meet.
All pools are closed at BSC Aquatic & Wellness Center on Saturday, Feb. 24.
Due to Swim Meet.
The indoor track at Capital Racuqet & Fitness Center will be closed February 17, 23 & 24.
Due to tennis tournaments.
Friend of Safety and Health Award
Bismarck Parks and Recreation District (BPRD) received a Friend of Safety and Health Award from the North Dakota Safety Council. The purpose of the award is to honor new, innovative or significant safety and health programs in 2012. The award was received for BPRD's role in working with the City of Bismarck and local cycling groups to create a new park and trail map that not only included the recently completed on-street bikes lanes, but also includes general bike safety information. The lanes create a safer ways for bikes to share the road with vehicles, and the new, educational component of the bike map helps to remind all cyclists of the safe way to bike, both on the road and on the trail.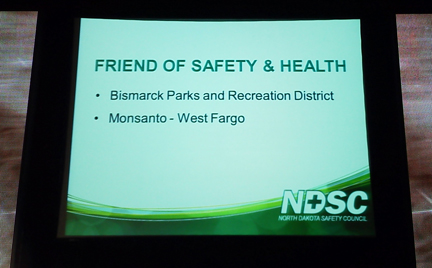 Winner, 2017 National Gold Medal Award for Excellence in the Field of Parks and Recreation