Gardiner Honored as Outstanding Young Professional
Jahna Gardiner, Aquatics Specialist for Bismarck Parks and Recreation District (BPRD), received the ND Recreation and Park Association's (NDRPA) Outstanding Young Professional Award at the group's state conference held recently in Mandan. This award honors professional members of NDRPA who have experience of less than 10 years and are age 35 or younger.
Gardiner started working as a lifeguard for BPRD in July, 1999. She also served as a swimming lesson instructor and then manager of the Wachter Aquatic Complex before being named BPRD's Aquatic Specialist in July, 2012.
As the Aquatic Specialist, Jahna supervises all aspects of the indoor aquatic programing at the BSC Aquatic and Wellness Center, which include lifeguard hiring, training and supervision, indoor swim lessons program management, coordination of indoor and outdoor lifeguard training and teaching lifeguard instructor classes to those outside of the Bismarck area, thus making sure all communities have lifeguards.
Jahna has a Bachelor's Degree in Elementary Education from Minnesota State University Moorhead. She is certified as a Water Safety Instructor, Certified Pool Operator, Lifeguarding Instructor Trainer (one of five in ND) and is a First Aid/CPR Instructor.
Jahna has created new programs such as Toddler Splash Days and Toddler Splash Training to maximize underutilized pool space during the day. She also saw a void in middle school group fitness programs, and created the Active8 program. She has been part of a BPRD team to help with the coordination of the U.S. Paralympics Swim Trials, the U.S. Paralympic Can-Am Swim Meet as well as numerous regional and state meets.
Jahna's ability to hire, train, inspect, inspire and masterfully schedule thousands of swimming lessons has been instrumental in growing the swimming lesson program at BPRD.  Swimming lesson numbers have increased by 26 per cent from 2012-2016. Private swimming lessons have grown 47 percent in the past five years. The swimming lesson programs consistently receive high marks in participant surveys.
Jahna's determination, dedication and her belief that parks and recreation professionals have an incredible responsibility to offer every child an opportunity to learn to swim  – and train the guards that teach them – make her the ideal recipient of the NDRPA 2017 Outstanding Young Professional Award.
Congratulations, Jahna!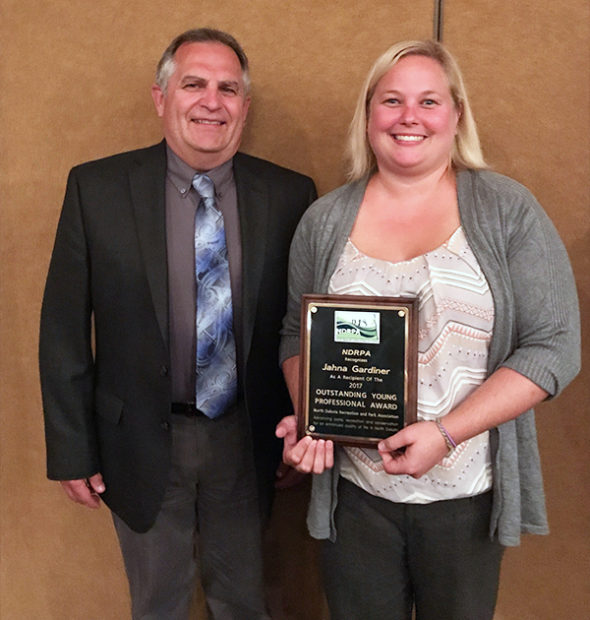 BPRD Executive Director Randy Bina and Jahna Gardiner, BPRD Aquatics Specialist.