Heroes Park Memorial Dedicated June 10
---
Fallen N.D. Servicemen Honored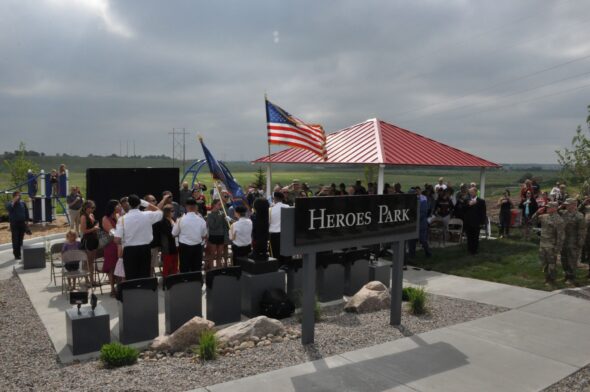 Six local soldiers who died in military service in Iraq and Afghanistan were recognized during the dedication of a Fallen Soldier Battle Cross and Memorial Wall at Heroes Park on Saturday, June 10.
Staff Sgt. Kenneth W. Hendrickson (N.D. National Guard)
Cpl. Curtis R. Mehrer (N.D. National Guard)
Spc. Anthony W.H. Monroe (U.S. Army)
Spc. Tyler J. Orgaard (N.D. National Guard)
Sgt. Thomas J. Sweet II (U.S. Army)
Sgt. Travis A. Van Zoest (N.D. National Guard)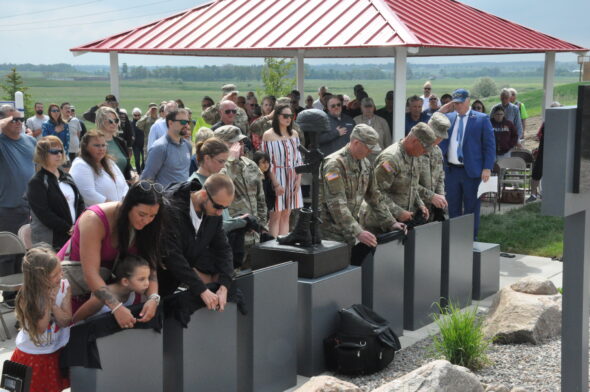 Heroes Plaza features a Memorial Wall recognizing the 14 N.D. National Guard soldiers who died in service during the Global War on Terrorism; a Battle Cross statue depicting a rifle, boots and helmet with plaques honoring six Bismarck soldiers; and a flagpole. This was the seventh memorial built across the state by the North Dakota Heroes Foundation, which was founded in 2011 to complete this recognition effort, with support from the North Dakota Patriot Guard.
This event also included the ribbon cutting ceremony for Heroes Park, located in Bismarck's Clear Sky Addition. In addition to Heroes Plaza, park amenities include an accessible playground and picnic shelter, along with open play space. The park was donated to Bismarck Parks and Recreation District (BPRD) last year and will be maintained for the public by BPRD.