Northwoods League To Introduce New Team in Bismarck, North Dakota
Rochester, MN. – The league where Chris Sale, Max Scherzer, Curtis Granderson, Jordan Zimmermann and well over 100 other current and former major-league baseball players once spent their summers is coming to Bismarck in 2017.
The Northwoods League announced today, Friday, Feb. 12 at a press conference at the Bismarck Parks and Recreation District office that it has awarded a franchise to the Bismarck area for the 2017 season. The franchise will be owned and operated by Bareknuckle Baseball LLC and will play its home games at the newly renovated Bismarck Municipal Ballpark.
"We are excited to make North Dakota our sixth state of occupancy, especially its Capital with such a wonderful facility," said Dick Radatz, Chairman of the Northwoods League. "I can't wait until Opening Day 2017."
The team has signed a 10 year lease with the Park District and will play its games between May and August each season.
Randy Bina, Executive Director of Bismarck Parks and Recreation said, "We are very excited to welcome the Northwoods League to Bismarck and we're looking forward to watching some great baseball at the Municipal Ballpark."
The team is owed by Radatz, a co-founder of the Northwoods League. John Bollinger, the team's general manager, will oversee business operations after working the last three years with a new Northwoods League team in Kalamazoo, MI.
"We're eager to show the Bismarck community what Northwoods League baseball is all about," said Bollinger. "Fun, when done right, makes a difference in the lives of our fans, business partners, and the overall communities we serve. Our management team is excited to showcase our unique brand of entertainment and look forward to building summer memories at the ballpark for years to come."
Management plans to hold a community team-naming contest in May and will be fully operating in Bismarck as soon as September. A website and more details will be available later this spring.
The Northwoods League is the proven leader in the development of elite college baseball players. The 22-year old summer collegiate league is the largest organized baseball league in the world with 18 teams, drawing significantly more fans, in a friendly ballpark experience, than any league of its kind. A valuable training ground for coaches, umpires and front office staff, more than 140 Northwoods League players have advanced to Major League Baseball, including Cy Young Award winner Max Scherzer (WAS) and MLB All-Stars Chris Sale (CWS), Jordan Zimmermann (WAS), Curtis Granderson (NYM), Lucas Duda (NYM) and Ben Zobrist (KC). All league games are viewable live via the Northwoods League website. For more information, visit www.northwoodsleague.com.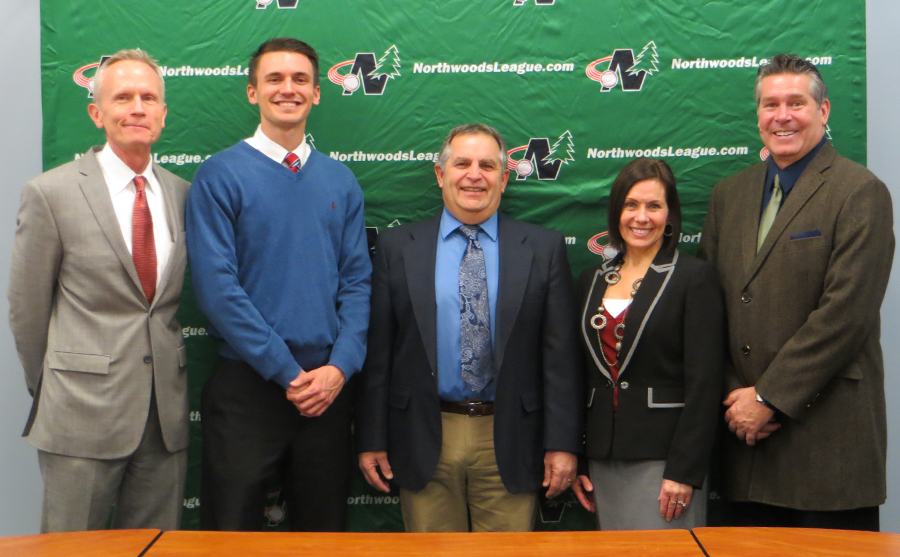 Left to right: Gary Hoover, President, Northwoods League, John Bollinger, General Manager for the Bismarck Northwoods League team, Randy Bina, Executive Director, Bismarck Parks and Recreation District, Julie Jeske, President, Bismarck Board of Park Commissioners and Dick Radatz, Jr., Chairman, Northwoods League