Alerts
Moses 4th & 5th Grade Basketball Practices Cancelled Tonight Thursday, December 14.
Due to music program.  Moses Practices are rescheduled for Friday, December 15: 5th grade at 4-5pm and 4th grade at 5-6pm.
Indoor public skating Saturday, Dec. 16 at the Capital Ice Complex has been cancelled.
Due to a hockey tournament.
The Pebble Creek Recreational Trail is closed from 19th St. to the Century Ave. bridge.
Wachter Park will be closed until Fall of 2017.
Due to the construction of the new rink at Schaumberg, the current Wachter Park is closed and will be replaced to make way for the new building and parking lot. Don't worry a brand NEW Wachter park will be coming in …
Read More
Park & Trail Maps
Park Specific Maps (PDF downloads)
Click this image to view a printable PDF of our parks and trails system.

The Pebble Creek Recreational Trail is closed from 19th St. to the Century Ave. bridge.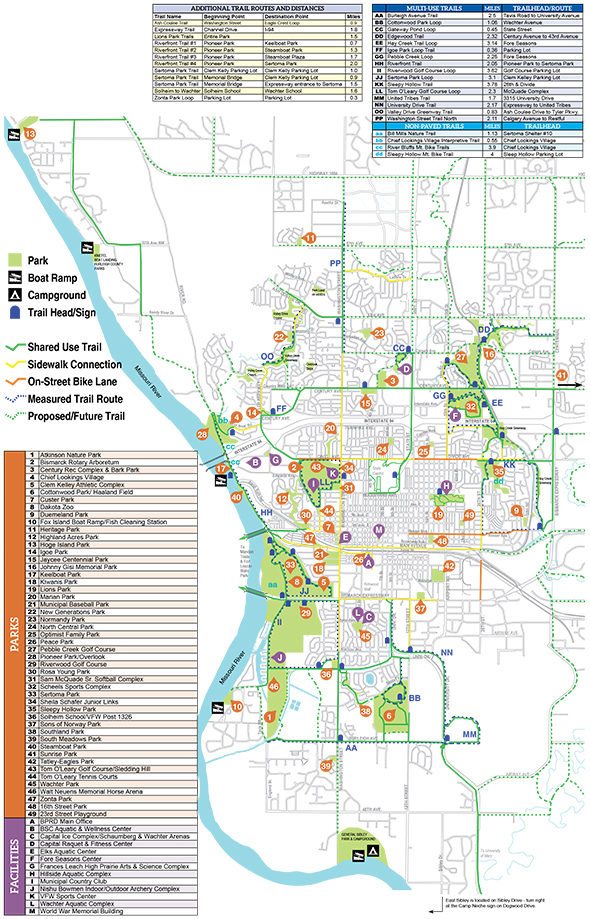 ---
The Park District asks citizens to abide by the following rules when using the trails:
 Walkers, joggers and bikers please keep to the right when using the trails.
All dogs must be on a leash.
Be aware of traffic approaching and behind you.
Be aware of intersections and crossings.
Please pick up you and your pet's litter.
---
Bismarck Trails
BPRD's commitment to being a preventative healthcare leader is evident in the 75-plus miles of paved and unpaved recreational trails, 95 percent of which are kept open and usable during winter. Please check the orange Alert bar on this page to view news on trails that may be temporarily closed due to nearby construction and/or repairs.
Acquiring land for park development is a Strategic Plan focus area.  Since 2014, Bismarck Parks and Recreation District has added 434.8 acres of park land to its inventory, including six new neighborhood parks and selected Burleigh County parks, moving the dial from 40.9 acres/1,000 residents to 47.0 acres/1,000 residents.
---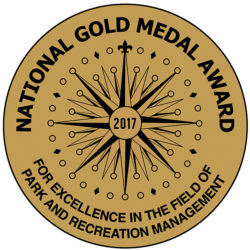 Winner, 2017 National Gold Medal Award for Excellence in the Field of Parks and Recreation