Alerts
Moses 4th & 5th Grade Basketball Practices Cancelled Tonight Thursday, December 14.
Due to music program.  Moses Practices are rescheduled for Friday, December 15: 5th grade at 4-5pm and 4th grade at 5-6pm.
Indoor public skating Saturday, Dec. 16 at the Capital Ice Complex has been cancelled.
Due to a hockey tournament.
The Pebble Creek Recreational Trail is closed from 19th St. to the Century Ave. bridge.
Wachter Park will be closed until Fall of 2017.
Due to the construction of the new rink at Schaumberg, the current Wachter Park is closed and will be replaced to make way for the new building and parking lot. Don't worry a brand NEW Wachter park will be coming in …
Read More
Fore Seasons Center
Located at Pebble Creek Golf Course, 2525 North 19th Street
223-3600 or 221-3385
Try the Fore Seasons Center for your golf, soccer, and softball baseball needs! The Fore Seasons Center is also the golf shop for the Pebble Creek Golf Course.
Hours
Monday – Thursday: 9am – 8pm
Friday – Saturday: 9am – 7pm
Sundays: 10am – 7pm
To check the availability of the dome, please refer to the Fore Seasons Center Schedule page.
Indoor Driving Range
Bucket of Balls
Mini Basket – $4.00
Small Basket – $5.00
Medium Basket – $7.00
Large Basket – $8.00 (2017); $9.00 (2018)
Bucket of Balls Coupon Books
(12 coupons/booklet)
Large – $80 (2017); $90 (2018)
Medium – $70
Batting Cage
$12.50/30 minutes (2017); $13.00/30 minutes (2018)
$6.50/15 minutes (2017); $7.00/15 minutes (2018)
Coupon Books (12 coupons/booklet): 30 mins each, $130 or 15 mins each, $65.00
Soccer
Soccer players can rent the Fore Seasons Center for team practices and league games.
Group Rentals
Fore Seasons Center can be rented for birthday parties, teams, schools, civic and professional organizations
1-10 hours – $200/hour
1-10 hours – $200/hour
11-24 hours – $190/hour
25-49 hours – $170/hour
50+ hours – $160/hour
Golf Lessons
Group or individual (adult and junior) by appointment at all facilities. For more information contact the instructor directly or call Riverwood Golf Course at 222-6462.
Tim Doppler, 701-226-5641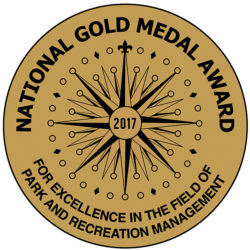 Winner, 2017 National Gold Medal Award for Excellence in the Field of Parks and Recreation