Spring/Summer Activity Guide Available Now Online
---
The 2023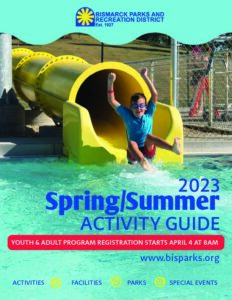 Spring/Summer Activity Guide is posted online now!
Registration for most spring/summer youth and adult programs opens April 4 at 8 a.m. online and in person at the Bismarck Parks and Recreation District (BPRD) office at 400 E. Front Ave. See specific programs for details.
Now is a great time to make sure your BPRD program registration account is updated with any address or email changes. Parents and guardians, please remember to add your email to all youth accounts to ensure you receive program-related emails. If you have trouble accessing your online account, call our office at 701-222-6455.
Youth Programs
Adult Programs
Learn more about programs and activities in the Spring/Summer Activity Guide, select Programs in the blue menu bar of this site or use the website search feature to find details about specific programs.
Limited print copies of the Guide will be available for pick up at the BPRD office at 400 E. Front Ave. and BPRD facilities starting March 13.