Alerts
A portion of the Pebble Creek Trail from 19th Street to Century Avenue has been detoured onto the Pebble Creek Golf Course cart path for the winter.
This detour will be in place until spring when winter conditions subside.
Flurry Fest – Events all month long
Date:
February 1st to February 28th
||
Events
---
There's a flurry of activity planned for Flurry Fest, Bismarck Parks and Recreation District's annual winter festival. Flurry Fest takes place the entire month of February.
Many popular Flurry Fest events are planned, such as the annual Treasure Hunt, skating with the Bobcats, public skating and tennis tournaments. New events for 2019 include blacklight tennis and drop-in hockey.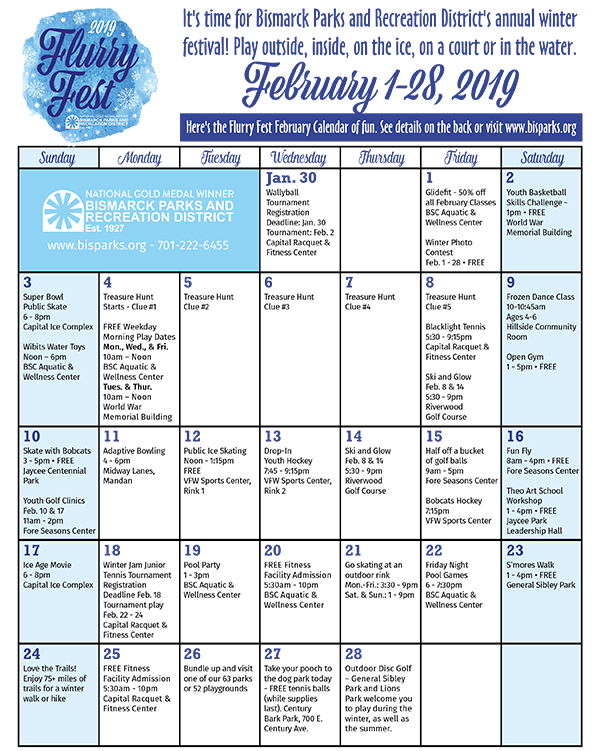 ---
Feb. 1 – 28 • Photo Contest
Send us your pictures of winter fun and you could win a prize package from Bismarck Parks and Recreation District.
Plus – your photo may just show up in one of our publications or online.
Visit the Flurry Fest Photo Contest webpage for details.
---
Feb. 1-28 • GlideFit – 50% off all February Classes
All February GlideFit classes are 50% off.
GlideFit is a fitness class that takes place in the water on a hard surfaced mat. Imagine a paddle board, but tied down.
---
Feb. 1 – 28 • Snow Volleyball
Think 'sand volleyball' but with snow! A volleyball net has been put up at Tatley-Eagles Park for folks interested in trying  it out. Volleyballs are available at the warming house on site during regular warming house hours.
---
Feb. 4 • FREE BPRD Treasure Hunt
Sharpen your treasure seeking skills. You get one Treasure Hunt clue a day for five days to lead you to a treasure of park district prizes. Clues will be posted daily on the front page of the BPRD website, on our Facebook page, or call the Treasure Hunt Hotline at 222-6479.
---
---
Feb. 14 & 22 • Ski and Glow
5:30 – 9pm
Due to the extreme cold weather, we have cancelled our February 8 Ski and Glow event and rescheduled it for a later date of Friday, February 22.
The cross country skiing path will be lit for this night ski. Regular ski rental fees apply. Enjoy FREE hot cider and cookies.
---
Feb. 10 & 17, March 3 & 10 • DJGA Youth Clinics
Juniors ages 5-14: 11 – 11:45am
Juniors in middle school: 12 – 1pm
Juniors in high school: 1 – 2pm
Participants are responsible for paying the discounted rate of $4.00 for their range balls.
To register call Fore Seasons at 223-3600.
---
Feb. 11 – May 20 • Adaptive Bowling
4 – 6pm
Midway Lanes, 3327 Memorial Highway, Mandan
This bowling program is offered to individuals of all ages and abilities. $3.50/game price includes shoe rental. No registration needed.
---
Feb. 13 & 20 • New Skater Training – Roller Derby
6:30 – 9pm
The BisMan Bombshellz Roller League is offering training for women to learn how to play roller derby. For detail information visit, www.bismanbombshellz.com
---
Feb. 18 • Winter Jam Junior Tennis Tournament Entry Deadline
Tournament play is February 22-24.
---
Feb. 19 • Pool Party
1 – 3pm
Jump in for some watery fun! The wibits (blow up water toys) will be in the water. There will be water games and prizes. All ages welcome.
---
Feb. 20 • FREE Fitness Facility Admission
5:30am – 10pm
Check out the fitness facility for free today!
---
Feb. 22 – March 30 • Friday Night Pool Games
6 – 7:30pm
BSC AWC Members: Free; Non-Members: $5.25
Join us for family fun water games. A staff member will share game options and rules. Families can choose which games to play on their own, or join in with another family. Jump in and play!
---
Feb. 23 • FREE S'mores Walk
1 – 4pm
The walking path will have a fire pit to make s'mores. Supplies for s'mores are provided. The walk is dog-friendly.
---
Feb. 24 – March 3 • FREE Open Gym
1 – 5pm
The Open Gym Program is designed for both youth and adults to use a neighborhood gymnasium in a supervised, free play situation. The Open Gym is free of charge.
---
Feb. 25 • FREE Fitness Facility Admission
5:30am – 10pm
Check out the fitness facility for free today!
Winner, 2017 National Gold Medal Award for Excellence in the Field of Parks and Recreation