Alerts
The Washington Trail from 57th Ave NW to Restful Dr. is temporarily closed for construction.
Due to mechanical problems at Hillside Aquatic Complex, only the slides are currently working, the other water feature is closed until further notice. The pool remains open.
Two segments of the Cottonwood Park trail, 2506 South 12th St., are closed until further notice due to construction of additional softball fields. 
Custer Park
Did you know that this park is Bismarck's first park? This little gem is located on S. Washington St. and Broadway Ave. You may hear people say, "You know, that park with the eagle." This refers to the large, metal eagle sculpture in the center of the park. You can search for the peace pole, lounge under the pergola, do a dance on the stage in the park or have a nice conversation with your friend or family on a bench. See how many varieties of flowers you can find in the flower beds. Then go for a swim across the street at the Elks Aquatic Center.
Park Amenities
Across the street from Elks Aquatic Center
Metal Eagle Scuplture
Click on map image to view printable PDF.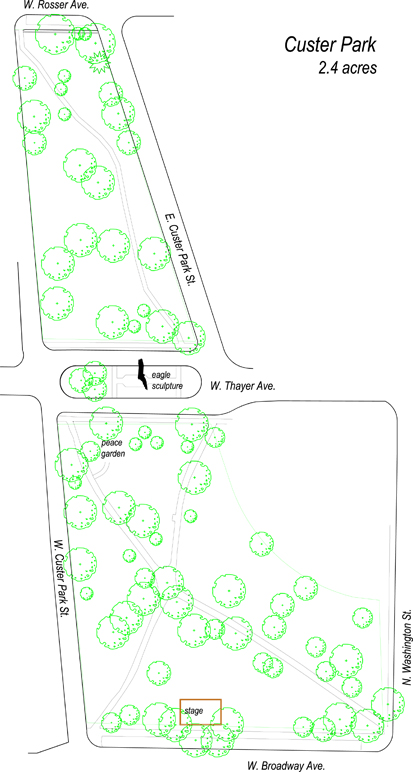 Winner, 2017 National Gold Medal Award for Excellence in the Field of Parks and Recreation