Alerts
Due to the increased river levels, the following areas are closed until further notice:
Fox Island Boat Ramp parking lot, Keelboat Boat Ramp and south end of parking lot,  the Expressway underpass,  and the west Sertoma Park Trail from the Expressway underpass to the north end of the park at Riverwood Drive.
A portion of the Pebble Creek Trail from 19th Street to Century Avenue has been detoured onto the Pebble Creek Golf Course cart path for the winter.
This detour will be in place until spring when winter conditions subside.
Custer Park
Did you know that this park is Bismarck's first park? This little gem is located on S. Washington St. and Broadway Ave. You may hear people say, "You know, that park with the eagle." This refers to the large, metal eagle sculpture in the center of the park. You can search for the peace pole, lounge under the pergola, do a dance on the stage in the park or have a nice conversation with your friend or family on a bench. See how many varieties of flowers you can find in the flower beds. Then go for a swim across the street at the Elks Aquatic Center.
Park Amenities
Across the street from Elks Aquatic Center
Metal Eagle Scuplture
Click on map image to view printable PDF.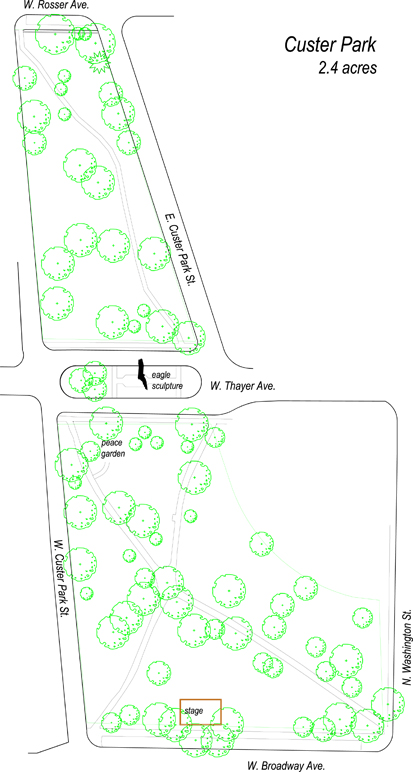 Winner, 2017 National Gold Medal Award for Excellence in the Field of Parks and Recreation