Alerts
BSC AWC Aqua Zumba Fitness Class has been cancelled this Saturday, Feb. 24 from 9-9:45am, due to the swim meet.
All pools are closed at BSC Aquatic & Wellness Center on Saturday, Feb. 24.
Due to Swim Meet.
The indoor track at Capital Racuqet & Fitness Center will be closed February 17, 23 & 24.
Due to tennis tournaments.
Swing Away….. New Expression Swing
The sought after and often asked about Expression Swing is now installed at Jaycee Centennial Park in Bismarck. The expression swing allows for a parent or care-giver the opportunity to swing with a baby or young child under five in a face-to-face, interactive way.
Jaycee Centennial Park is located at 321 E. Century Ave., near the corner of E. Century and N 4th St. Let's go swing!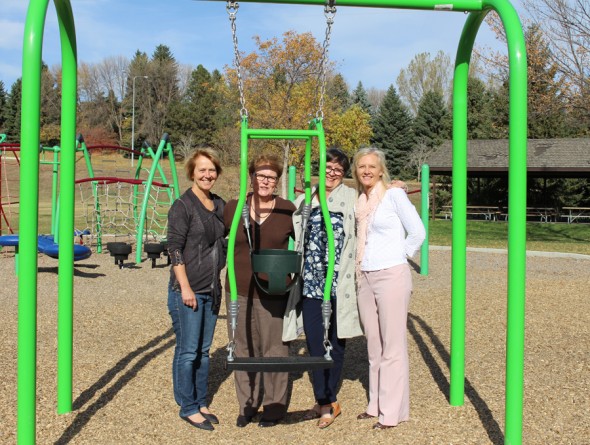 The Expression Swing was supported financially by these individuals. Left to right are: Lorrie Giese, Rita Falconer, Fran Joersz, and Beth Bakke Stenehjem. Not pictured are Sandi Tabor and Becky Matthews. We thank them for their support of Bismarck's playgrounds.
Winner, 2017 National Gold Medal Award for Excellence in the Field of Parks and Recreation