Alerts
BSC AWC Aqua Zumba Fitness Class has been cancelled this Saturday, Feb. 24 from 9-9:45am, due to the swim meet.
All pools are closed at BSC Aquatic & Wellness Center on Saturday, Feb. 24.
Due to Swim Meet.
The indoor track at Capital Racuqet & Fitness Center will be closed February 17, 23 & 24.
Due to tennis tournaments.
Special Thank You to State Farm Insurance
A special thank you to State Farm Insurance for their support of Bismarck Parks and Recreation District (BPRD). State Farm donated $1,000 to purchase new child-size vehicles for the Safety Village program. This program teaches home, car, pedestrian, bike, fire and other safety topics to pre-school aged children. Safety Village includes a child-size town complete with buildings, sidewalks, signed intersections, streets and marked crosswalks.
Celebrating the donation are Kevin Klipfel, BPRD Facilities and Program Director and Roberta Flach-Storm, State Farm Agent, Bismarck.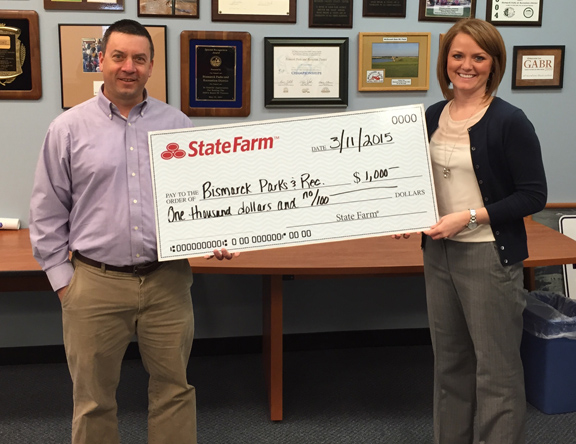 Winner, 2017 National Gold Medal Award for Excellence in the Field of Parks and Recreation